Woman made to drink human urine mixed with excreta in moral policing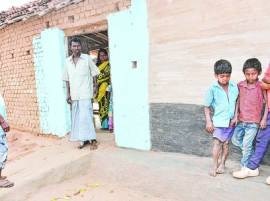 Dhanbad: A 35-year-old tribal woman in Bokaro was allegedly stripped in public, tonsured, beaten up and made to drink human urine mixed with excreta for being broadminded enough to back a man whom her village had branded a witch doctor.

The deplorable incident in 21st century India took place at Kalyanpur under Dhadkidih panchayat, 12km from the steel city, on Friday. The woman named four persons in her FIR lodged with Jaridih police late last night. Accused Maheshwar Manjhi (40), Surendra Manjhi (30), Bhim Manjhi (30) and Gopichand Manjhi (28) are absconding.

Jaridih OC Bal Kishan Singh said the quartet, including key accused Maheshwar, had been charged under several sections of the Indian Penal Code, including those for rape, outraging the modesty of a woman and criminal conspiracy, which can invite life term.

According to the FIR, Surendra, Bhim and Gopichand came knocking on the woman's door around 8pm on Friday. "They threatened to break open the door if she didn't open. As soon as she did, they dragged her out in front of her husband. When the 40-year-old man tried to resist, he was thrashed," OC Singh said.

The woman was taken to the Kalyanpur community hall where many village veterans were present. She was stripped and her head shaved. The four men rained blows on her, accusing her of being "a woman of bad character" and having an "illegitimate relationship with an ojha".

Maheshwar, who allegedly had orchestrated the kangaroo court, bayed for her blood. He mixed urine and excreta in a bottle, which was then forced down her throat, the OC said, quoting from the FIR.

Police launched a manhunt, and raided houses and possible hideouts of the four accused since last night, but drew a blank.

OC Singh said a case under Sections 376 (rape), 354 (using criminal force with the intent to outrage the modesty of a woman), 506 (criminal intimidation), 20B (criminal conspiracy), 342 (wrongful confinement), 448 (trespassing), 452 (trespassing to cause hurt) and 511 (committing offences punishable with imprisonment for life) among others had been slapped on the four.

"We are hopeful of arresting them. They are farmers," he added.

Bokaro DSP Niraj Pandey said, "We are investigating all the charges and conducting raids to arrest the accused."