Woman says JNU protesters blocked bleeding child's route; alleges Shehla Rashid of ignoring alerts
The post went viral on social media where Nikita Sara wrote about the inconvenience caused by the protest staged by JNU students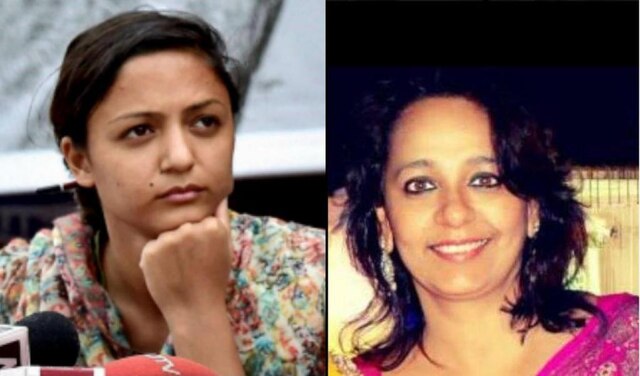 NEW DELHI:
Jawaharlal Nehru University (JNU) students on Monday took a protest march demanding Professor Atul Johri's arrest in an alleged sexual harassment case. A post regarding the same went viral on social media where Nikita Sara wrote about the inconvenience caused by the protest staged by JNU students.
Image: right (nikita.sara.singh/ Facebook), left (PTI)
In her Facebook post, she wrote a small child who was bleeding profusely was stopped from going to the hospital. She further added that while the mother of the child was screaming for help to get her car out of the jam, the JNU student protesters were dancing to the beat of the drums and singing 'aazadi'.
Sara claims that she tried to reason with the protesters but they said 'that's not our problem'. In the Facebook post, she also says that a lady in 'full makeup was giving interviews', claiming it was JNU student activist Shehla Rashid.
Commenting on the allegations, in a series of Tweets, Shehla Rashid said that she had no knowledge of the incident and that none of the students had any knowledge of the incident.



1. Dear friends, I have no knowledge of the incident Nikita Sara is referring to. The Police had already cordoned off Nelson Mandela Marg at 7 pm when the march started. I was on NDTV and Mirror Now from 7:30 pm onwards, so I have no knowledge of this, nor do any of the students.


— Shehla Rashid (@Shehla_Rashid) March 19, 2018



2. I asked around; No student knows about this. If there was indeed a bleeding child, none of the students I spoke to seem to have any knowledge of this. It just means that they changed route in time. I hope the child is safe and would like to visit her in the hospital tomorrow.


— Shehla Rashid (@Shehla_Rashid) March 19, 2018



3. We always allow ambulances and general public who are in need. See this video for example: https://t.co/shYprOliXD We proactively make way for traffic, especially for medical emergencies, but today (Monday), the road was already cordoned off by police at 7 pm, so no traffic.


— Shehla Rashid (@Shehla_Rashid) March 19, 2018



7. We were expecting backlash from BJP, but we weren't expecting it so soon. State agents are already at work. But let's keep focus on Johri. In the end, my best wishes to the injured child, if the story is true. Would like to visit her in the hospital.


Thanks to all of you.

— Shehla Rashid (@Shehla_Rashid) March 19, 2018
Rashid also said that 'Public inconvenience' is a classic tactic to defame movements.