Year ender 2017: From Aarushi Talwar's murder verdict to Fodder Scam, here's a list of 5 major judgments
Year-ender 2017: On 12 October 2017, in Aarushi Talwar murder case the Allahabad High Court acquitted parents of slain girl calling the evidence against them unsatisfactory.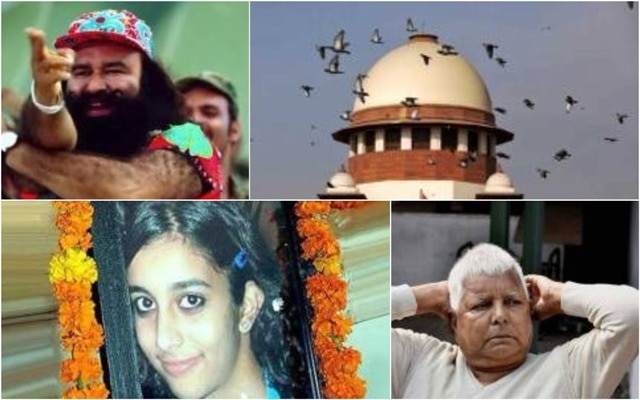 Year-ender 2017: From Aarushi Talwar's murder case to Fodder Scam, the year 2017 witnessed some major judgments by the courts.
Here is a list of five major judgments. Have a look
 1) Aarushi Talwar murder case

PTI IMAGE/FILE
On 12 October 2017, in Aarushi Talwar murder case the Allahabad High Court acquitted parents of slain girl calling the evidence against them unsatisfactory and giving them the benefit of the doubt.
In November 2013, the parents were convicted and sentenced to life imprisonment, but many critics argued that the judgment was based on weak evidence.
Aarushi Talwar murder case refers to the unsolved murders of 13-year-old girl Aarushi Talwar and 45-year-old Hemraj Banjade, a live-in domestic worker, employed by her family in Noida, Uttar Pradesh. The two were killed on the night of 15–16 May 2008 at Aarushi's home.
2) Gurmeet Ram Rahim Singh

(Image: File)
On 25 August 2017, a special CBI court in Panchkula, Haryana, delivered its verdict in a sexual assault case regarding a former  Dera sadhvi, finding Gurmeet Ram Rahim Singh guilty of two counts of rape and Singh was taken into custody. Following the  conviction, there were violent protests in Panchkula and Punjab.
The Punjab and Haryana High Court, on 26 August 2017, ordered the police to seize the properties of the group to compensate for the vandalism caused in protests by his supporters.
On 28 August 2017, the CBI court sentenced him to a total of 20 years in jail, 10 years for each of the two rape convictions to be served consecutively.
3) Fodder Scam

Image: PTI/ FILE
A special CBI court on Saturday convicted former Bihar chief minister Lalu Prasad and 15 others in a fodder scam case while acquitting six including another former chief minister Jagannath Mishra.
CBI judge Shivpal Singh pronounced the verdict in a packed courtroom in the case pertaining to fraudulent withdrawal of Rs 89.27 lakh from Deoghar Treasury between 1991 and 1994.
Lalu Prasad, the chief of RJD, and other convicts were taken into custody immediately after the pronouncement of the
verdict.
A charge sheet was filed against 38 persons on October 27, 1997. Eleven of them died and three turned approvers while
two other accused confessed and were convicted in 2006-07, a CBI official said.
4) 2G scam verdict

File image/ Courtesy: PTI
A Special CBI court acquitted former telecom minister A Raja, DMK MP Kanimozhi and all other accused in the 2G scam case that had rocked the Manmohan Singh-led UPA-II government, holding that the prosecution "miserably failed" to prove any of the corruption and money laundering charges.
The stunning verdict came as an anti-climax in a case that had been repeatedly highlighted by the BJP during 2014 general election campaign as the hallmark of corruption in the then UPA regime. The BJP turned the arbitrary award of radio frequency to telecom providers into a major political issue and put the UPA-II government on the mat.
"I have absolutely no hesitation in holding that prosecution has miserably failed to prove any of the charges against any of the accused," Special CBI Judge O P Saini said in his verdicts in three separate cases related to the 2G scam in a packed courtroom at the Patiala House premises.
5) Aadhaar

Image: File
As of November 2017, owing to increasing concerns around privacy, the potential for surveillance, and exclusion of eligible  beneficiaries from welfare schemes from the leveraging of Aadhaar-based systems, the Aadhaar project's validity is being  challenged in the Supreme Court of India.
Related to the Aadhaar case, on 24 August 2017, Supreme Court delivered a landmark verdict on Right to Privacy. The apex court declared Right to Privacy as a fundamental right which is intrinsic to right to life.
(With inputs from PTI)