Amid chants of 'Jai Sri Ram', Yogi offers prayers at Saryu ghat in Ayodhya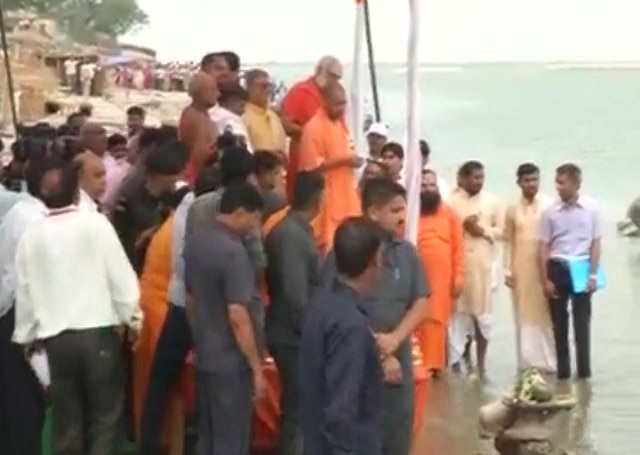 AYODHYA: A strong votary of construction of temple at the disputed Ram Janmbhoomi- Babri Masjid site, Uttar Pradesh chief minister Yogi Adityanath visited Ayodhya on Wednesday. He also visited the makeshift Ram temple to offer prayers.


UP CM Yogi Adityanath offers prayers on the banks of River Saryu, in Ayodhya




Yogi Adityanath offers prayers at makeshift Ram temple in Ayodhya.




Adityanath reaches Hanumangarhi temple




Adityanath reaches Ayodhya. He will also visit 'Ram Ki Pairi' at Saryu ghat





Uttar Pradesh CM @myogiadityanath reaches #Ayodhyahttps://t.co/vqu9GGmT58 pic.twitter.com/uwGDRjP5qe


— ABP News (@abpnewstv) May 31, 2017


Yogi Adityanath leaves for Faizabad from Lucknow


His first visit to Ayodhya comes a day after criminal conspiracy charges were framed against BJP leaders in the 1992 Babri mosque demolition case.


The chief minister will also visit the Hanuman Garhi temple, the second most famous religious site in Ayodhya.


The saffron clad leader will be the second chief minister to offer prayers at the Ram Lalla temple after the demolition of the Babri mosque on December 6, 1992. Rajnath Singh was the first chief minister who offered prayers at the site in 2002.


After landing at Faizabad around 9:00 am, Adityanath will reach the Hanuman Garhi Temple and later go for a 'darshan' of Ram Lala. He would be staying for 9 hours in Ayodhya.


The matter of disputed site is in the Supreme Court but the head priest of Ram Janmabhoomi expects Adityanath to help resolve the issue.


"We will welcome the chief minister as per traditions. We hope he will give an assurance of finding a solution of this despute," head priest Satyendar Das said.
Babri Masjid petitioner Haji Mehboob has objected to chief minister's visit.
"He being everybody's chief minister, he should not visit disputed site. But it's up to him," he said.
Adityanath has always maintained that the hurdles on the path of construction of Ram temple in Ayodhya will be gradually removed and its construction will start soon.