Zyxel unveils 'Multy' WiFi mesh solution for enhanced connectivity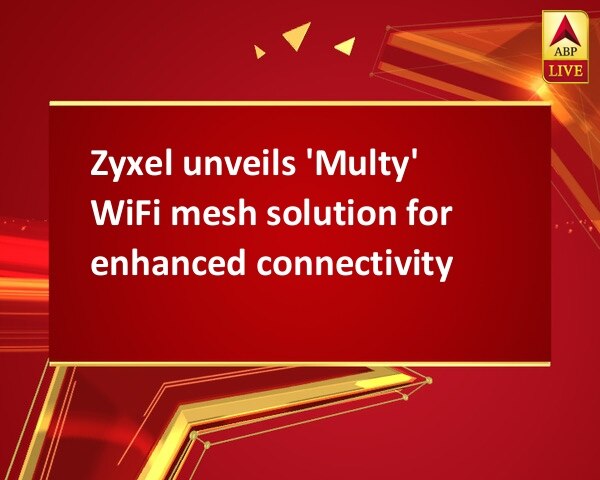 By:

ANI
Updated:
18 Sep 2017 12:50 PM
New Delhi [India], Sept 18 (ANI): Zyxel Communications on Monday announced Multy Whole Home WiFi Mesh Solution, designed to deliver reliable, fast and pervasive WiFi connectivity required to enable the present-day connected homes.
Multy comes with two offerings: Multy X and Multy PRO. Multy X caters to customers who need a simple, yet powerful whole-home WiFi solution that can be self-managed from an intuitive app. On the contrary, Multy Pro provides service providers with a remotely-manageable WiFi solution that enables them to maximize their subscribers' experiences by providing advanced WiFi services and improving customer service capabilities.
Zyxel Multy provides a powerful WiFi mesh network eliminating WiFi dead spots, providing seamless WiFi coverage and enabling users to move freely throughout the home without having to worry about losing coverage. As users roam around, the Multy network automatically switches their devices to the Multy device with the best signal as they move room from room.
The Multy X Whole-Home WiFi Mesh System makes it easy for home users to create and self-manage whole-home WiFi through a simple app-based setup, or through Amazon Alexa voice control. The tri-band system ensures the fastest possible speeds and maximizes the network performance of connected devices. The intuitive, graphical Multy X app walks users through the setup process within minutes and helps them manage the entire home network with ease.
The Multy Pro Managed WiFi Solution is designed for service providers to build the best-fit whole-home managed WiFi solution to meet the unique requirements of each subscriber's home. Service providers will be able to gain insight into subscribers' connected homes through Multy Pro's TR-069 and TR-181 remote management and save time with Multy Pro's auto-configuration function, significantly reducing support costs with fewer support calls and truck rolls. (ANI)
This story has not been edited. It has been published as provided by ANI