Another night of drinking and dancing, until the shots began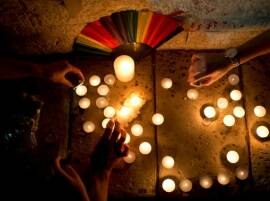 By:

AP
Updated:
13 Jun 2016 08:38 AM
ORLANDO: Jon Alamo was ready for a good time.
The 22-year-old clothing store sales clerk arrived at Pulse in Orlando at 10:30 p.m. Saturday, clad all in blue from his button-down shirt adorned with palm trees to his loafers.
"It was definitely going to be an awesome
night
," he said.
Like young people in clubs the world over, Alamo met up with some friends, and then some more friends. He
danced
in Pulse's main room, where people swayed to the beat of salsa music. Then Alamo drifted into the club's two other rooms, which grooved to more of a hip-hop vibe. He remembers hearing Rihanna's "Work," one of his favorite songs, and grinding to it on the
dance
floor.
It was supposed to be just a
night
of
dancing
and
drinking
, of looking good and gleefully partying into the early morning hours. It was Latin
night
at Pulse, one of Orlando's top gay venues, and two drag performers were scheduled to perform, one of them a big draw for appearing on a season of the TV show "RuPaul's Drag Race."
%