Bone chilling video: Road rage incident in Delhi's Janakpuri leaves 1 person dead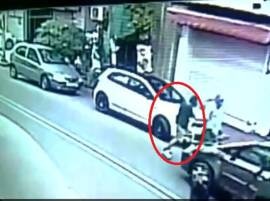 New Delhi: A bone-chilling CCTV video has emerged from New Delhi's Janakpuri area where a speeding car crushed a person walking on the road.
The 12-second clip shows two people walking on the side of road when a speeding car, coming from opposite direction, crushes one of them.
The impact of the accident was so much so that the man jumped in the air before landing on bushes.
The other person just nearly missed the sedan.
The on-lookers rushed towards the victim.
However, the victim died on the spot in this road rage incident in Delhi's Janakpuri.
Watch video:
#WATCH: Road rage incident in Delhi's Janakpuri, 2 people dead (13/06/2016) (CCTV footage)https://t.co/yydhNNlXvU

— ANI (@ANI_news) June 14, 2016
Video courtesy-ANI/Twitter