WOW: This scarf will make you invisible!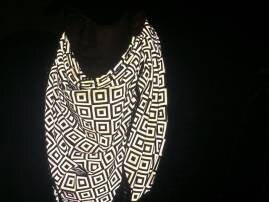 New Delhi: In a world where it's almost impossible to escape the paparazzi, the ISHU scarf is a blessing for anybody who wants to stay out of the limelight. Invented by a 28-year old Delhi resident, Saif Siddiqui ,the scarf priced at $388.51 is the equivalent of an invisibility cloak as it makes the wearer unrecognisable in pictures and videos clicked on flash mode. 
Source: Instagram
This scarf is made up of extremely light reflecting particles that absorb all the light around it, leaving the environment around it thick black after photographing with flash.
Source: theishu.com
The sophisticated yet stylish 'Ishu' can be worn by both men and women to make every outfit stylish and ensure privacy. According to Siddiqui's site, theishu.com, the scarf is available in the colours grey, black and red.
Source: theishu.com
At its introduction, the scarf received immediate attention from A-list Hollywood celebrities including Cameron Diaz, Paris Hilton, Major Lazer amongst others who disappeared into the dark as soon as they were hounded by cameras.
Cameron Diaz, Actor (Source: theishu.com)
Paris Hilton, Actor (Source: theishu.com)
Major Lazer, DJ (Source: theishu.com)
Nick Jonas, Singer (Source: theishu.com)
The scarf will be launched in India in a few months and according to Siddiqui, it will catch on in Bollywood just as quickly. The owner of All Access Brands, Saif also plans to launch ISHU phone cases which are capable of blocking a person who holds the case close to his face.
Saif Siddiqui (Source:Instagram)
According to reports, Saif's primary intention behind launching such products is to make people aware how important privacy is. Anybody who wants to grab hold of this next big fad can find it online via THE ISHU webshop or in selected retail stores.