Watch: Bus driver refuses to pay toll, rams through tollgate, nearly runs over toll employee in Gurugram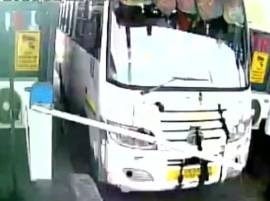 By:

ANI
Updated:
23 May 2016 08:40 AM
Gurugram (Haryana):
A bus driver refused to pay the toll and rammed through a tollgate in Kherki Daula toll plaza, Gurugram district of Haryana.
He also nearly runs over toll a toll employee.
In the starting of 23-second video, the bus can be seen standing behind a white car which waits for its toll pass. As the car moves out of the tollgate, white bus comes from behind.
Meanwhile, an employee signals the vehicle to stop. After slowing it down a bit, the driver throttles the engine and moves out after breaking the tollgate.
In his effort to escape toll, he almost crushed the toll employee (wearing white shirt).
Interestingly, in the right-hand side of the bus, a close look reveals that the bus has written on it-"Bajrang City Bus Service".
Image: Screengrab/ANI-Twitter
The incident occurred on Sunday and entire video is captured on CCTV camera. The police are now examining the footage and are trying to nab the accused.
Watch video:



WATCH (22/5/16): Bus driver refuses to pay toll, rams through tollgate, nearly runs over toll employee in Gurugramhttps://t.co/0mFz5yihpV


— ANI (@ANI_news) May 23, 2016
Video courtesy-ANI/Twitter