10 days after delivering baby girl Miraya, Esha Deol gets hair colored; Fans troll her!
Esha Deol and Bharat Takhtani welcomed their second child, baby girl Miraya on June 10th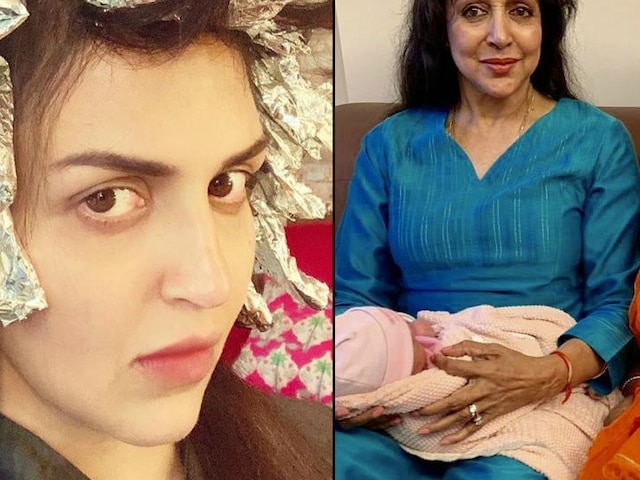 Esha Deol and businessman husband Bharat Takhtani welcomed their second child, a baby girl Miraya on June 10th and the couple left back from the hospital 3 days after on June 13th. The
pictures of the 2nd time mommy Esha glowing at the hospital
with their elder daughter Radhya Takhktani and the newborn Miraya Takhtani in hubby's arms took over social media during her discharge. In days to follow we also showed you some
unseen pictures of Esha's mom and MP Hema Malini holding the grand daughter
who calmly slept in
Nani
's arms posing with the gynecologist Dr. Kiran Coelho. Esha had also shared a picture of the newborn's bedding spread at home for her welcome.


A week after getting home, the 2nd time mommy took to Instagram on Thursday and posted a picture of herself getting her hair color done. She writes in the caption - 
"#iflookscouldkill ( getting my hair colour done after a long gap of 9 months ..... [emoji])#patienceisavirtue .... but I still love u @fatima_dsouza #myhairstylist [emoji]".
While the mommy finds some time finally for herself, the fans are showing concern over the picture with many saying that the chemicals are harmful that soon after the delivery since the mother is still breast feeding.
Check out Esha's post and the reactions by fans below that:


Reactions on Esha Deol's post
ALSO -
Esha Deol reveals why she named newborn daughter 'Miraya', Husband Bharat Takhani shares who she looks like
The fans find it not appropriate to color hair that soon after baby's birth but we tried to find if it actually is harmful!
We found some queries on google by the new mothers who asked the same question -
"Is it safe to use hair dye when I'm pregnant or breastfeeding?"
And here's what experts have to say to...
"The chemicals in permanent and semi-permanent hair dyes are not highly toxic. Most research, although limited, shows it's safe to colour your hair while pregnant" -
www.nhs.uk
You may read
FULL article here!
But do consult your doctor before heading for the same!
Esha Deol leaving hospital with newborn baby Miraya on June 13th
And regarding Esha Deol, we can be assured that the actress-mother took proper advise from her doctor before proceeding to get her hair colored. Esha had introduced her gynecologist Dr. Kiran Coehlo in her post before this one, thanking her for delivering her second child. Dr. Kiran has also helped other celebrities like Shahid Kapoor-Mira Rajput, Arpita Khan Sharma-Aayush Sharma & others deliver their babies.
Click below to Check Out!
Celebrity gynaecologist Dr. Kiran Coelho with actors