Esha Deol "Back To Basics #Yoga" After Giving Birth To Her Second Child, Daughter Miraya Takhtani Last Month
After 1 month and 20 days of delivering baby girl Miraya Takhtani, Esha Deol resumes her Yoga practice giving #MondayMotivation to fans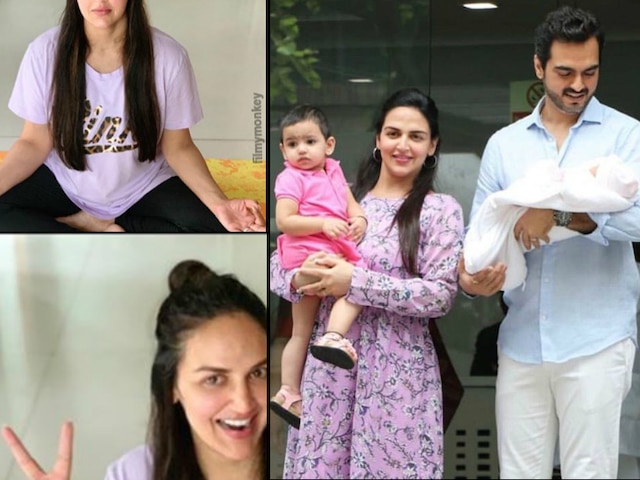 Esha Deol and Bharat Takhtani, who recently became parents to their second child, daughter Miraya Takhtani, celebrated former's sister Ahana Deol's 34th Birthday in a family gathering this weekend and they were also joined by Dharmendra-Hema Malini. We showed you some beautiful pictures of the Deol family including Esha, daughter Radhya Takhtani, Birthday girl Ahana Deol with husband Vaibhav Vohra and son Darien Vohra during the cake cutting ceremony. Esha hadn't posted too many family pictures post giving birth to Miraya but did return to Instagram lately and shared more pictures from lunch outing, twinning with dad Dharmendra etc. The last we saw were the pictures from her younger sister's Birthday celebration and now check out the 2nd time mommy getting "back to basics". Esha gave birth to her second child on June 10th last month and the 'Dhoom' actress has now, after about two months post delivery, has resumed her Yoga practice.
PICS: Esha Deol Celebrates Sister Ahana Deol's Birthday, Hema Malini & Dharmendra Attend The Celebrations
Esha posted a picture collage of her's doing yoga, captioning it -
"Back to basics #yoga...... 🙏🏼 slowly but surely... getting there😊.... #mommygettingfit with @anujayoga #meditation#mondaymotivation #yogainspiration#yogafit #mondaymood#mondayvibes #eshadeol"


We also showed you the pictures
from newborn Miraya's welcome function that was held days after she came back home from hospital.
"Say Hello to Miraya Takhtani" - said the cards put up at the decoration while mommy Esha Deol was donning the traditional South India silk dress 'pattu pavadai', joined by Hema Malini and other ladies from the family. Esha was also trolled unfortunately for a picture she posted while getting her hair colored 10 days after delivery, last month.
10 days after delivering baby girl Miraya, Esha Deol gets hair colored; Fans troll her!
Grand mother Hema Malini's pictures holding the newborn Miraya a day after her birth, also went viral last month when Esha's Gynaecologist Dr. Kiran Coelho shared them on her social media page[
See PICS here!
].
Here are the latest pictures Esha Deol shared on her Instagram page: 
[Swipe to view all pics!]