Abhishek Bachchan is too a product of dynastic legacy: Rahul Gandhi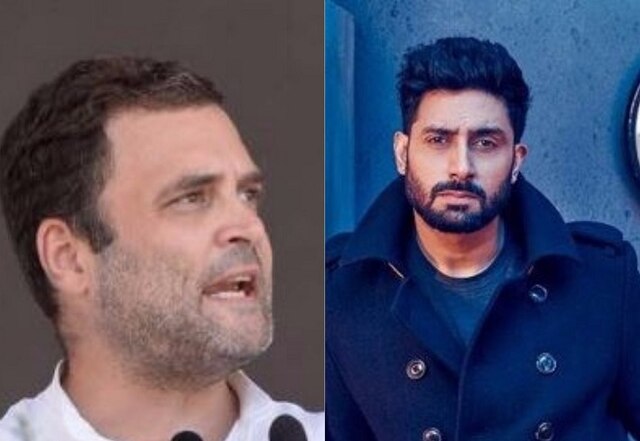 Mumbai: Congress Vice President Rahul Gandhi while addressing the students at University of California, took Bollywood actor Abhishek Bachchan's name when he was  asked about dynastic legacy.
Rahul Gandhi is currently in Berkeley for a two-week tour to the US . He answered several questions including the accusations made against him for being a dynastic.
Rahul further said, "Most of the country runs like this. That's how India works."
He also took  several other Indian leaders and prominent names who were born into famous families.
This included the name of Abhishek Bachchan, who is also labeled as a product of nepotism as he is the son of Bollywood legend  Amitabh Bachchan. However, Abhishek Bachchan has not reacted to Rahul's statement.
"Dynastic politics is a problem in all political parties. Akhilesh (Yadav), (MK) Stalin (son of M Karunanidhi in DMK), Abhishek Bachchan (son of Bollywood superstar Amitabh Bachchan) -- are all examples of dynastic legacy, also (Mukesh and Anil) Ambani (son of Dhirubhai Ambani), that's how the entire country is running," the Congress Vice President said.
(Union Minister Smriti Irani on Rahul Gandhi's remarks on dynastic legacy in India/Image: ABP News Live)
After this controversial statement of Rahul Gandhi, Union Minister Smriti Irani also reacted. Irani said, "Appalling to hear him say 'dynasty run everything in India' when asked about dynastic politics.
He seems to have forgotten that in the Independent India, there are many citizens who have contributed in different walks of life, but they do not have any political legacy. The Prime Minister himself is a man who has risen from a humble background, as have the President and the Vice President."
Never the less, this controversial comment of Rahul has given a new blow to the already flaming topic of nepotism.