Academy Awards 2018: Frances McDormand's Oscar trophy STOLEN at the after party, thief arrested!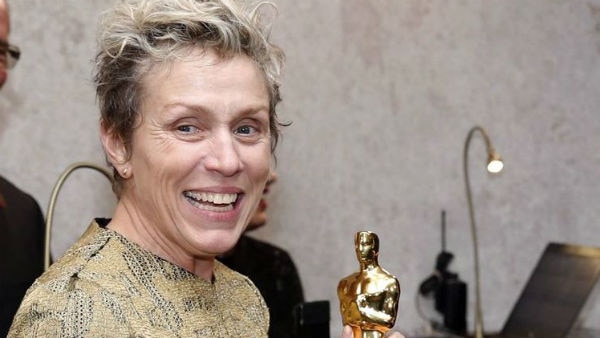 By:

ANI
Updated:
06 Mar 2018 11:09 AM
In one of the most bizarre incidents happening at the Oscars, a man has been arrested for allegedly stealing actress Frances McDormand's Oscar statuette.
According to the local media, the Los Angeles Police confirmed the incident and said a 47-year-old Terry Bryant was arrested on Sunday over suspicion of felony grand theft.
McDormand had won the 'best actress' Academy Award for her performance in 'Three Billboards Outside Ebbing, Missouri'



Best Actress winner Frances McDormand rallies the crowd. Presented by @ATT. #Oscars pic.twitter.com/6loAtYheKZ


— The Academy (@TheAcademy) March 5, 2018
The authorities have said the Oscar was allegedly stolen during the Governors Ball after party.
According to reports, Bryant had a ticket for the event.
Video captured by The Associated Press appears to show Bryant walking with the statuette out of the Governors Ball, the Oscars after-party where police say he took it.
The video shows a man in a tuxedo who appears to be Bryant holding an Oscar statuette highly and proudly as an onlooker cheers.
"All right baby boys, and baby girls," he says, walking quickly and nearly bumping into a woman.
He then quickly glances around him before walking out of frame, prominently holding the Oscar the entire time.
Another photographer who took Bryant's picture at about the same time did not recognize him as a winner at the ceremony, and began following him, police said.



Security at the Governors Ball are looking for this guy, who grabbed Frances McDormand's Oscar and ran out with it. Wolfgang Puck's photographer stopped him, got the Oscar back, and the guy disappeared back into the ball. Apparently Frances has said to let him go. #Oscars #Drama pic.twitter.com/5tlsx4Ulwt


— Cara Buckley (@caraNYT) March 5, 2018
When he was confronted, Bryant handed back the statuette without a fight, police said. He was detained by security guards at the event and arrested by Los Angeles police officers. The award was later returned to McDormand.
According to some reports, McDormand was spotted crying after giving up the search for the statuette on the premises and departing with her husband, filmmaker Joel Coen.



At one point last night, actress Frances McDormand told our photographer, "I lost my Oscar." (The thief didn't make it far – another photog intervened and stopped him.) https://t.co/sHq3MtcFAA pic.twitter.com/mlHv5pYo6V


— Los Angeles Times (@latimes) March 5, 2018
She was later reunited with the trophy.