After fighting depression, Zaira Wasim SPOTTED at IIFA 2018; Reunites with 'Secret Superstar' Mom Meher Vij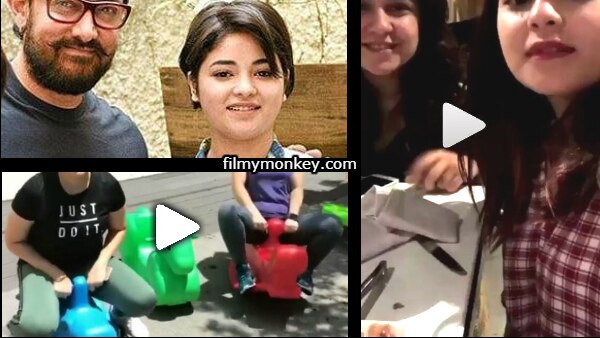 The 17 yr old 'Dangal' girl had sent us all in shock and filled us with concern when she
shared her depression story before saying goodbye to social media
 over a month ago in early May and now the pretty and talented teenage actress has also made her first public appearance after a gap of 40-45 days as she was spotted at the ongoing 19th International Indian Film Academy Awards being held currently in Bangkok, Thailand.
Zaira had left a mark with her impeccable acting by playing Aamir Khan's daughter in 'Dangal' and then she stole a million hearts with portrayal of a strong girl 'Insiya' in 'Secret Superstar'.

We were pleased to see Zaira returning to social media just 2 weeks ago and now the girl has also made her first public appearance winning over the month-ago struggle she faced and it couldn't have been better to do it with none other than her on-screen Mommy Meher Vij.

Meher, who slayed her debut IIFA appearance by walking the Green Carpet of IIFA Rocks yesterday in a beautiful outfit, met her 'Secret Superstar' in Bangkok and their video-pictures speak loudly of Zaira's return...with a bang!

"Secret Superstars", wrote Meher on the video below as the rocking onscreen Mom-Daughter duo enjoy the toy-horse ride together in Bangkok.






The two also dined together.












[You may also follow our Instagram handle @filmy_monkey to stay updated with Pics-Videos through the day!]

2 days before heading to Thailand, Zaira had also attended Shanghai International Film Festival 2018 looking really pretty in a red dress. She had posted pictures from the event on her Instagram handle too.






ALSO - Zaira Wasim has another name for 'Mr Perfectionist' Aamir Khan..! Check Out!

Kudos to Zaira to finally have won the battle against depression and proved to be the real life 'Secret Superstar Insiya' and her story is inspiring.

Leave your feedback, if any, below...! And Keep visiting Filmy Monkey for all updates & daily buzz.