After Kangana, it is now Simi Garewal VS Karan Johar
Here is the another controversy for Karan Johar.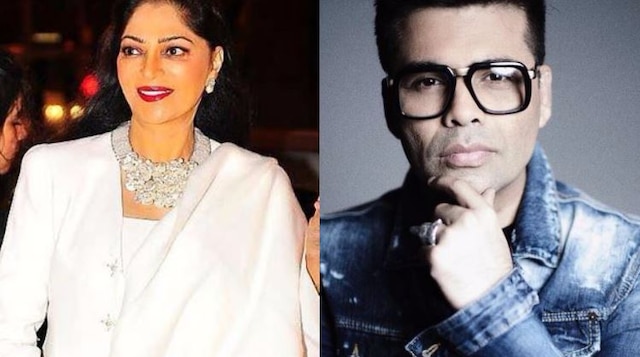 New Delhi:
The 'man' enclosed with controversies all over in Bollywood is none other than popular Director Karan Johar. After his miff with Kangana Ranaut over her much hyped 'nepotism' comment, Kjo has more to come up with!
Recently Karan Johar made his appearance at the Indian Film Festival of Melbourne along with B-town stars including Aishawarya Rai Bachchan, Raveena Tandon, Simi Garewal, Konkana Sen Sharma and many more.
Tussle with Kangana Ranaut after IIFA was not enough for Karan so he grabbed attention this time by irking reputed Celebrity host Simi and Twitter serves its purpose right there.
Simi Garewal's tweet read as follows "After I finished hosting IFFM Awards @karanjohar told Festival Director 'Next year I want to host the awards'! Another takeover?!"



After I finished hosting IFFM Awards @karanjohar told Festival Director 'Next year I want to host the awards'! Another takeover?!🙄


— Simi Garewal (@Simi_Garewal) August 15, 2017
The 'takeover' seems to indicate a lot more. Karan Johar has acquired much fame from his chat show 'Koffee with Karan' which gave a tough battle to 'Rendezvous with Simi Garewal' some time back.
As per the sources of Pinkvilla, fest's director Mitu Bhowmick , had said in a statement: "We are extremely honored and glad to have Karan Johar be part of our festival this year. He is one of the most reputed filmmakers in India and is such a loved personality. We here in Melbourne and people of the city are looking forward for his master class which he will be delivering as part of the festival this year."
But Simi made a smart move too. The tweet got her comments like "No one can reach your level" and "no question of a takeover".

Lol will karan Johar leave anything for others ..sharing is caring Karan 😎 https://t.co/q8fzM8x11y

— KK_tweet (@KKTweet5) August 15, 2017




Please pass it to someone now even Manish Paul!


— krishna yadav (@krIshNDIA) August 15, 2017

@Simi_Garewal 2/2 & rendezvous with simi garewal ...thanks for such wonderful entertaining memories for millions le me fan of yours 🙏

— Dr Narain Rupani (@DrRupani) August 16, 2017




If this is true and serious. Shame on Karan. You don't have to worry madam.


— CA Vinod Kothari (@vinodkotharee) August 17, 2017

Don't let it happen ma'am! People really miss your talents as a host/interviewer! I'm glad you're making your sentiments be heard!

— Vee (@IntuitVee) August 17, 2017




He had stopped making movie nd started hosting as his new profession


— anahit (@Dashing_d_leo) August 17, 2017
Well, let's see if Karan Johar reacts to this tweet or remains tight-lipped
Stay tuned for more updates!