Akshay Kumar & Harshvardhan Kapoor flaunting their family love in their tattoos posing inside water has made our Monday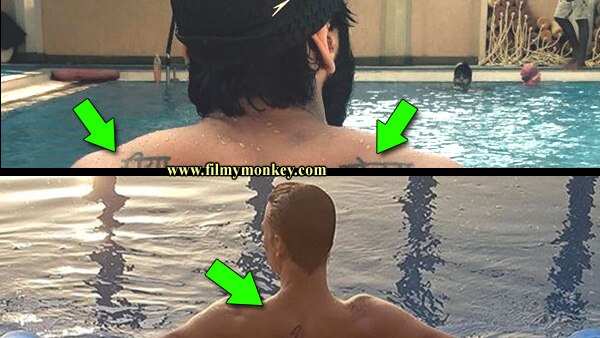 Two Bollywood actors, Akshay and Harshvardhan gave our week a good start when they posted hot pic posing inside water going shirtless and flaunting their respective tattoos that are dedicated to their family. While Anil Kapoor's son Harshvardhan has his two sisters Rhea and Sonam Kapoor's names inked on his back in hindi, Akshay on the other hand posed with son Aarav's tattoo showing that's inked on his back too.
Akshay however has two more tattoos, one of his wife Twinkle Khanna aka 'Tina' that's on his shoulder and the other,  his daughter Nitara's thats on the other shoulder.

Harshvardhan's recent tattoo pictures are from his scuba diving lessons that he took for a few scenes for his upcoming vigilante drama, 'Bhavesh Joshi Superhero' which is scheduled to release on May 25th.

"I had to learn the basics of scuba for an underwater sequence in 'Bhavesh Joshi'. It was quite stressful as we didn't have much time so, I did what I could in the sessions that we had," Harshvardhan said in a statement.


Harshvardhan Kapoor flaunts tattoos with his sisters Sonam & Rhea's names on his back during scuba diving lessons for upcoming film 'Bhavesh Joshi'


Harshvardhan Kapoor's scuba diving lessons for 'Bhavesh Joshi' shoot

"We also had to shoot the sequences at night time which made it more nerve-wracking. Because of my beard, the goggles kept slipping off and water kept entering my nostrils when I was deep underwater. That was scary and dangerous," he added.






Harshvardhan's elder sister Sonam, who recently got married to her businessman beau Anand Ahuja in a grand wedding, is currently at Cannes 2018.

Akshay Kumar on the other hand posted his picture while weight training inside water holding dumbells in his both hands.



Akshay Kumar's tattoo with wife Twinkle Khanna aka 'Tina's name on his left shoulder

Akshay had earlier also shared a weight training video under water and warned his fans to be careful if trying so, in his message that read - "Nothing like a dip in the pool in the scorching summers ???? Here I am swimming with weights...please ensure you're good at swimming to attempt this. It's a great leg workout and helps in overall core building."






Haven't the love of these actors for their family left with you a beautiful feeling?


Harshvardhan Kapoor's tattoos with sisters Rhea and Sonam's name on his back.. A few years ago and now...!