Akshay Kumar "never ever" met Gurmeet Ram Rahim Singh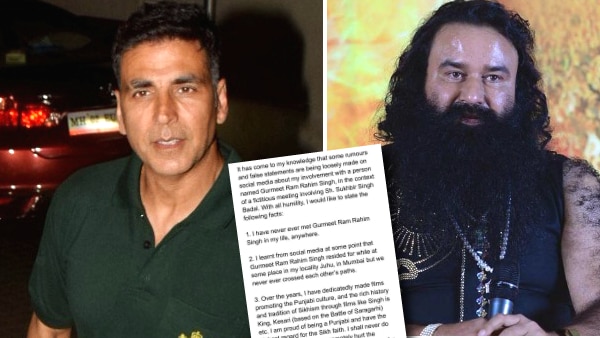 By:

ANI
Updated:
12 Nov 2018 09:14 PM
New Delhi:
 Bollywood superstar Akshay Kumar, who has been summoned by a Special Investigation Team (SIT) probing police firing on protesters in Punjab in the wake of the Bargari sacrilege case, clarified that he had "never ever met" Gurmeet Ram Rahim Singh, contrary to media reports stating otherwise. In a statement put out on Twitter, Akshay refuted "rumours and false statements" about his involvement with Ram Rahim Singh following reports that he was playing the role of a mediator between the Badals and Gurmeet Ram Rahim.
"I have never ever met Gurmeet Ram Rahim Singh in my life, anywhere. I learnt from social media at some point that Gurmeet Ram Rahim Singh resided for a while at some place in my locality Juhu in Mumbai but we never ever crossed each other's paths," the statement read.


— Akshay Kumar (@akshaykumar) November 12, 2018
Akshay continued: "Over the years, I have dedicatedly made films promoting the Punjabi culture and the rich history and tradition of Sikhism through films like 'Singh is Kinng' and 'Kesari' (based on the Battle of Saragarhi). I'm proud of being a Punjabi and have the highest regard for the Sikh faith."


"I shall never do anything that would even remotely hurt the sentiments of my Punjabi brothers and sisters, for whom I have utmost respect and love," added Akshay.

The statement comes a day after Akshay, along with former Punjab chief minister Parkash Singh Badal, and his son Sukhbir Singh Badal, were asked to be present before the SIT at the Circuit House in Amritsar later in the month for the investigation related to the Bargari sacrilege.

The five-member SIT was set up by the incumbent Punjab Chief Minister Captain Amarinder Singh in September this year, soon after issuance of the notification to withdraw investigation of sacrilege incidents of Sri Guru Granth Sahib from the Central Bureau of Investigation (CBI). (ANI)