CUTEST VIDEO: Akshay Kumar's daughter Nitara does the chin-ups in the gym while dad counts for her!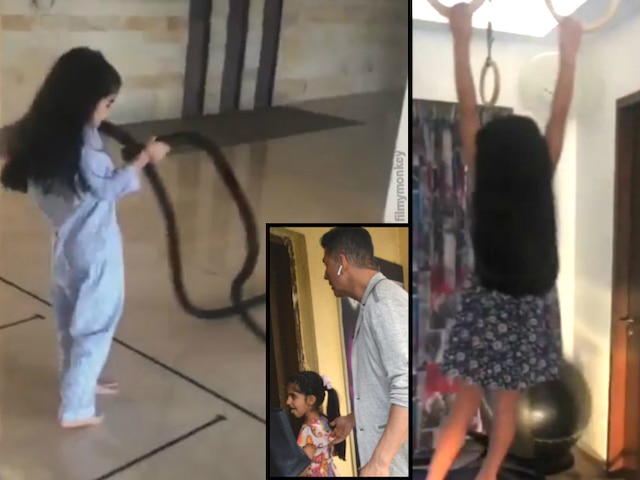 HIGHLIGHTS
Akshay Kumar's daughter returns with her #FitIndia message
Dad posts video of his 6 year old princess trying to do chin-ups exercise in the gym
Nitara is the younger daughter of Akshay-Twinkle, born on 25th September 2012
One of Bollywood's fittest actors, Akshay Kumar, never fails to give fitness goals and his daily routine is inspiring for the youth each time it's brought up during interviews or reality shows. The 'Kesari' star also motivates his family members including his little daughter Nitara, to stay fit and the videos on his Instagram are proof. We had seen in November last year, the cutie attempting at the battle rope exercise and the daddy had captioned the video -
"Kids tend to pick up what they see...start early and try to set a good example. Great parenting. Active kids. #FitIndia". The daddy and daughter are back after 4 months to give #FitIndia message and this time Nitara tries chin-ups exercise. 
Akshay posted the video a few hours ago, in the morning today, in which his 6 yr old daughter wearing a pretty floral printed frock is hanging holding on to the two rings tied to the ceiling in their gymming area. Dad's message alongside the video reads -
"It's always a good idea to start young, their bodies are agile and flexible...a little push now will go a long way later.  #MondayMotivation#FitIndia".
Akshay counts how long the cutie holds on and goes 1, 2, 3... to 45 until she jumps back on the mattress. Dad also cheers for her saying
"come on Nitara, don't give up!"
while counting for her.
Watch below: 


Both the parents Akshay and Twinkle Khanna along with the big brother Aarav Bhatia, dote on the littlest member of the family, Nitara.
ALSO:
PICS: Akshay's daughter Nitara gets TOTALLY CUTE posing for the paps while on a MOVIE DATE with dad Akshay & mom Twinkle
ALSO:
PICS: Sister Nitara hides from cameras making big bro Aarav Kumar as Akshay & family return from vacay!


On work front, Akshay Kumar will next shoot for his upcoming film 'Sooryavanshi'.
Rohit Shetty is collaborating for the first time with Akshay in his directorial venture 'Sooryavanshi' and the shoot for this action-cop drama will begin from May. "
We will begin shooting for the film in the month of May. It's a long one year's journey before releasing the film,
" he said.
"We will announce the female lead in next 2-3 days,
" Shetty said on the sideline of Hindustan Times Most Stylish Awards 2019 here on Friday.
"Sooryavanshi" is being produced by Karan Johar. The movie will release on Eid 2020, clashing with Salman Khan and Alia Bhatt-starrer "Inshallah".
(with inputs added from IANS)