Harshvardhan Kapoor Messes Up In His Comment On Anand Ahuja-Sonam Kapoor's #ThrowbackThursday Picture, Jijaji Corrects Him!
Anand Ahuja shares a romantic #throwbackthursday post with Sonam Kapoor from Maldives, Points mistake in brother-in-law Harshvardhan Kapoor's comment complimenting the couple!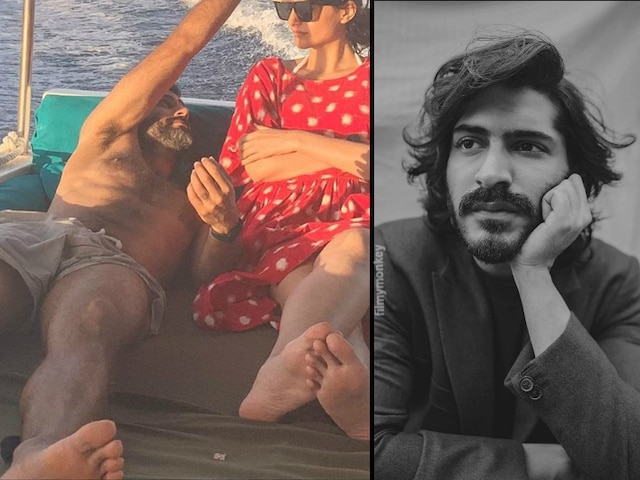 The adorable couple of Bollywood, 'Neerja' actress Sonam Kapoor and her businessman hubby Anand Ahuja are back to steal hearts with yet another PDA-filled picture as the husband shared a beautiful throwback picture from their Maldives vacation on Instagram a while ago. Anand and Sonam can be seen sitting in a yacht with the former donning shorts while the lady looking pretty in a red polka dots dress with a hat on her head. Anand lying beside his wifey, has his hand placed on her hat in the picture and while some find it romantic, the other fans call it "hot". Sonam is smitten by her hubby and comments on the post
"My hottie[heart eyes emoji]".
However when her brother Harshvardhan Kapoor posted a comment,
jijaji
Anand points a mistake in it, also correcting it finally.
Anand's caption to the post reads-
"Every single day we must represent... that's why we say #everydayphenomenal ✨. #tbtEvery single day we must represent... that's why we say #everydayphenomenal ✨. #tbt"


And Sonam's younger brother Harshvardhan who made his Bollywood debut with 'Mirzya' and was seen in 'Bhavesh Joshi Superhero' post that, wrote in comments section reacting to the picture and praising the couple- "Damn .... Eat your vegetables [vegetable emojis+smiley]".
Anand replied to his comment first with a
folded-hand emoji.
But then he noticed the emojis used by Harshvardhan. The emojis Harshvardhan used believing depicted vegetables, however turned out wrong and Anand understood why. Pointing the mistake and blaming it on the mobile phone, he wrote- 
"although it's sad that apple recommends [corn emoji]and [tomato emoji] when you type "vegetables"! Corn is a grain and tomato is a fruit!"
And he yet again replied by posting the right emojis saying-
"[vegetable emojis] #eatyourgreens #futureisgreen"
Sonam kapoor reacts to husband Anand Ahuja's #ThrowbackThursday post from Maldives
Anand Ahuja corrects the comment posted by his brother-in-law & actor Harshvardhan Kapoor on the former's throwback pic with Sonam Kapoor
Sonam and Anand who tied the knot last year in May, are both vegetarian and according to reports their love story started when the two bonded over some vegan chocolate.
ALSO |
PIC: Harshvarrdhan Kapoor Gets Names Of Sisters Sonam & Rhea Tattooed
Coming back to their fabulous picture. Here's how the fans reacted to their picture.
Fans' reaction
Fans' reaction
And while looking up for more pictures from their vacation, we found yet anothe unseen picture of the two posing in the yacht, only this time the wifey can be seen cuddling up to her husband adorably as the two take a nap soaking some sun.
Sonam Kapoor and Anand Ahuja in a throwback picture posing romantically in yacht during Maldives vacation
ALSO | PHOTOS: Sonam Kapoor And Husband Anand Ahuja's PDA At 'The Zoya Factor' Screening Will Melt Your Hearts!
ALSO | Anil Kapoor Wishes Anand Ahuja By Sharing His Unseen Minus-Beard Pics Playing Volleyball, With A Heart Warming Message!