Anushka Sharma turns prankster, poses as her wax statue at Madame Tussauds Singapore leaving fans shocked!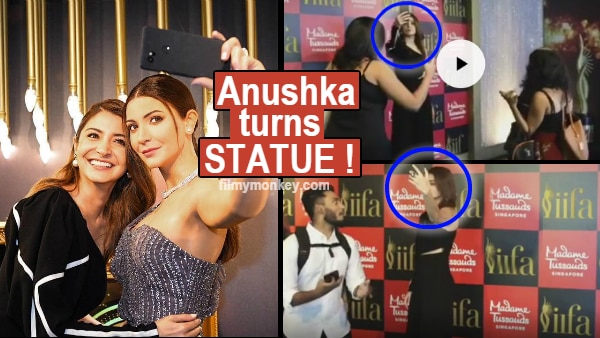 Anushka Sharma recently unveiled her
wax statue at madame Tussauds museum of Singapore[Pics!]
and the flawless figure left the actress so astounded with it's realistic features that she even went on to
call it "damn creepy"[Video!]
. The 'Zero' star's figure joins other Bollywood stars including Kajol, Shah Rukh Khan, Amitabh Bachchan, Aishwarya Rai, Madhuri Dixit, Kareena Kapoor Khan and Ranbir Kapoor in the IIFA Awards experience where you can re-live the glamour of the Bollywood awards ceremony.
Anushka's figure is the first-ever interactive wax statue at Singapore stadium and the wax figure holding a phone, personally inviting visitors to snap a selfie with her, which can be digitally shared with friends and family.
Anushka Sharma posing with her wax statue at Madame Tussauds, Singapore


While we have seen Anushka posing with her wax statue, now check out the actress posing as her wax figure!

The Madame Tussauds Singapore Instagram handle today shared a throwback video shot a week ago during the unveiling of the statue in which Anushka poses like her wax figure and shocks her fans.

The message with the video read - "1 week ago, we had some famous fun with @anushkasharma, we invited her biggest fans to the attraction…check yourself what happened. Who knew she is such a prankster!"

And check out Anushka breaking into hearty laughs as she scares the fans who come near her to click the selfie while she poses as her wax figure.

Watch the super-fun video below: 






Alex Ward, the General Manager at Madame Tussauds Singapore had said during the unveiling of Anushka's statue - "Anushka Sharma is a big star, and she is so nice to work with... Anushka's new interactive figure will be a great addition for our visitors and we will continue to grow our attraction in 2019. With much more interactives and Indian film stars coming to Singapore". 

After watching this video however, we wonder if the fans will trust the figure anymore! Didn't the video just make your day!