'Bepannah' Actor & Shahid Kapoor's Step Father Rajesh Khattar Celebrates Birthday With Wife & TV Show Co-Stars Harshad Chopda-Shehzad Sheikh
Ishaan Khatter's father Rajesh previously married to Neelima Azim, turned a year older on Tuesday and the popular TV & Film actor who recently became father to a baby boy, celebrated his Birthday with wife Vandana Sajnani and his 'Bepannah'co-stars Harshad Chopda and Shehzad Sheikh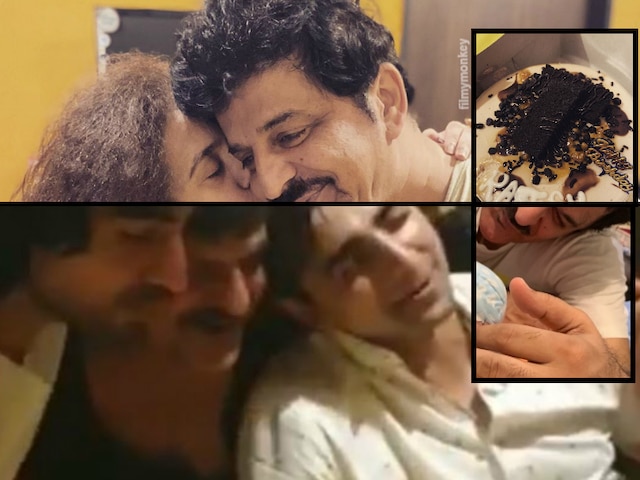 Popular Bollywood and Television actor Rajesh Khattar who was recently seen in popular shows 'Bepanaah' and 'Beyadh', turned 54 on Tuesday. Rajesh Khatter, who's the ex-husband of Shahid Kapoor and Ishaan Khatter's mother Neelima Azim, recently became father to a baby boy after 11 years of marriage with wife Vandana Sajnani, who they named Vanraj Krishna. Rajesh had a cosy birthday party at home with wife and they were joined by his 'Bepanaah' co-stars, Harshad Chopda-Shezad Shaikh who played his onscreen sons in the Colors TV show. The bunch of friends-family spent a great time together and the couple treated fans with some beautiful moments on Instagram from the celebrations.
Rajesh Khattar with ex-wife Neelima Azim, son Ishaan Khatter and step-son Shahid Kapoor during Ishaan's 'Beyond The Clouds' promotions
ALSO- Happy Birthday Shahid Kapoor: Step father Rajesh Khatter shares actor's throwback childhood picture to wish him on the day!
Rajesh posted multiple pictures-videos from his Birthday celebration,
"#tiringday #latehomecoming & #bingo all these #specialpeople make it super special for you by their presence????????thanks @madhusajnani @jayasha.a @dinesh_sajnani kabeer @prernapanwar my better half @vandanasajnaniofficial & the #hoodaboys @harshad_chopda @shehzadss .... & all our loved ones know what happens when #hoodaboys meet ????????Thnx harshad fr landing up straight frm the airport & thanks all for your precious presence & presents???????? .. & as always hamaari taraf se #beyhadh pyaar aur #bepannaah mohabbat aap sabko".
Vandana Sajnani shared a picture of the Birthday boy with his newborn son Vanraj, captioning it -
"#Happybirthday to the best #Daddy in the world @rajesh_khattar #Rajeshkhattar ❤️❤️ .. From #Vanrajkhattar ???????????????? Mumma and me #love you loads ❤️". 
In the post following, she also shared series of pictures from the Birthday party and the cake cutting, in one of which she is seen kissing Rajesh Khattar on his cheek. She captioned these-
"

Thanks for taking care of the baby's burping job these days jaan :) #Happybirthday my #Love #Husband ❤️ @rajesh_khattar #Rajeshkhattar #Caketime #Birthdayboy #Newdaddy #Vanraj #Vanrajkhattar @vandanasajnaniofficial #Vandanasajnanikhattar

". 
Take a look at the fun time the actors and family members had with Rajesh on his Birthday.
Below!
[Swipe to view all pics-videos in the posts]



View this post on Instagram



View this post on Instagram



View this post on Instagram
On the arrival of their baby boy recently, the actor in his 50s told BT- "
For me, becoming a father at 50-plus was another challenge, but then, I am neither the first one, nor the last in this category." Vandana, actress and theatre producer, says, "After a lot of hardships — three miscarriages, three IUI (Intrauterine Insemination) failures, three IVF (In Vitro Fertilisation) failures and three surrogacy failures — over the last 11 years, we have reached here. I can't express my joy. I want to tell my story because it will inspire couples to keep the faith and not give up hope, whatever their age is." When the doctor revealed that Vandana was carrying twins, but during her third month, she was diagnosed with a condition and had to be hospitalised. A few months later, it came to light that the growth of one of our babies was very slow and finally, we lost him. The situation was such that we needed to go in for immediate delivery to save the other baby. Thus, our son was born three months before he was due. Vandana's surgery did not go smoothly and she took a long time to heal; also, our baby was put in NICU (Newborn Intensive Care Unit) and was there for two-and-a-half months. The mother and son struggled throughout the journey, and finally, our little Krishna arrived home on Janmashtami. This is the most beautiful gift bestowed on us by the Gods.
"