'Bigg Boss 11's Benafsha Soonawalla gets a 'pappi' from Ranveer Singh & has an epic fan-reaction!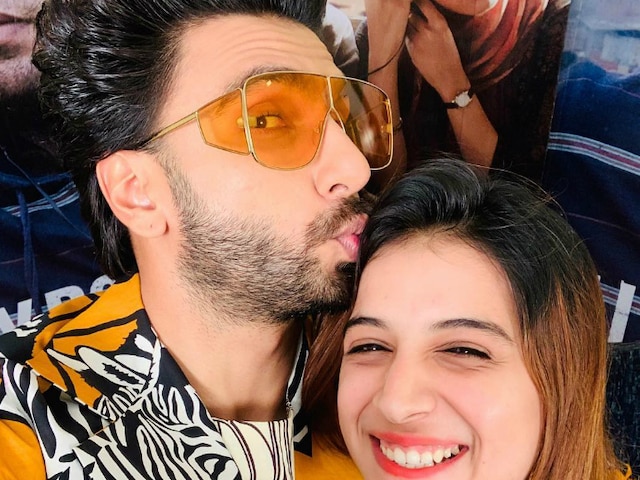 Remember the very bubbly contestant from 'Bigg Boss' season 11 who slayed with her hotness too throught the show in 2017? Seen on 'MTV Roadies 11' before getting popular with her BB 11 stint, the hottie Benafsha Soonawalla has just met her favorite Bollywood star and it in none other than the 'Gully Boy' actor Ranveer Singh. Ranveer was at an event for his upcoming film co-starring Alia Bhatt on Thursday, which was also attended by Benafsha. It is then when she got the opportunity to click a selfie with her favourite and he took her by surprise by planting a big pappi(kiss) on her forehead.
Benafsha's happiness knows no bounds as she shared the picture on Instagram a while ago with a caption that proves the 'Simmba' star's gesture has swept her off her feet.
Benafsha's super adorable caption with the picture reads -
"Precisely 1 second after he surprised me with that adorable pappi on my forehead. Outer me- keep it cazzhhh baby gurl keep it cool. Be classy you cannot show him the joker that you are.
Inner me- aaaaaaaaaaa GEDDDIT GUUURL YEAAAAH MAAAMAAAA whatjusthappened ooooooomy goodness BLESS THE LORD PRAISE THE LORDDD OH KHODAIJI WOHOOOO OOOOOOO MEHBOOBA OH MEHBOOBA OOOOO OOOOO OOOOO"


And she doesn't stop here. Then she goes on to share what her inner & outer self together are telling her in this moment.



It further reads -

"Inner me and outer me- they say never meet your favourite heroes cause you'll be disappointed, but thankfully I got nothing to worry about cause I chose you as mine😉 With love, Your "Ben Soon😜".



In the last, her p.s. message reads-

"@ranveersingh P.s have y'all noticed what a cute smile he's got?"

And wait.. there are these hashtags too which can't be missed either. She ends with - "#mindiichbloweeeng#spreadinghisgoodvibesinallofemgullies#tumeraheronumber1 #malalaajwatthe[marathi]".

['Malaa laaj waatthe' means in hindi mujhe sharm aa rahi hai. I'm feeling shy.]






Ahem! So is that how Ranveer addresses Benfasha... calling her 'Ben Soon'?

Ranveer seem to be a fan of Bigg Boss as Benfasha isn't the only one but another female contestant also experienced the same when meeting him last year. Bandgi Kalra, also from Bigg Boss 11, was also on cloud nice after meeting the '83' actor in May last year. She had written with a picture she posted him, "I'll always remember the way you said "Bandgi Kalra " made my day[heart emoji]".

SEE HERE - Ranveer Singh left this Bigg Boss 11 hottie smitten by saying something to her…! Check Out!

Coming back to Benafsha..

During and after 'Bigg Boss 11' Benafsha continued to make headlines, for her dating rumors with co-contestant Priyank Sharma which they both denied. The even saw a fallout and blocked each other from social media for a while. Benafsha had been in a steady relationship with her 'Roadies' co-contestant Varun Sood from before her BB 11 stint and a few months thereupon. The two soon after separated and the reason was believed to be her closeness with 'Puncch Beat' actor Priyanka. Varun on the other hand started dating Priyank's ex-girlfriend Divya Agarwal.

EXCLUSIVE: 'Me and Benafsha are NOT DATING' says Priyank Sharma