Black Buck case hearing: Bodyguard Shera misbehaves with media as Salman Khan reaches on Jodhpur airport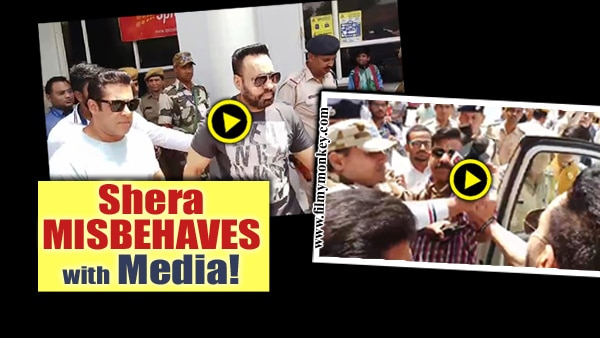 It's the first hearing at Jodhpur Court after Salman Khan was granted bail post getting sentenced for 5 years jail exactly a month ago in 19 yr old Black Buck poaching case. Salman also had to spend two days in prison before he was granted bail on April 7th.
Salman filed an appeal in the court for the suspension of the sentence and a Jodhpur court will hear his appeal against the sentencing on Monday i.e. 7th May.

Salman left from Mumbai on Sunday for appearing in the court and was seen accompanied by his bodyguard Shera and Baba at the airport.






Salman reached Jodhpur a while ago and his sister Alvira Agnihotri was also spotted at the airport as they arrived amid huge media present here.

When Salman and Shera exited the airport and headed for their car, there was media and photographers present all around them and some also tried to ask Salman some questions. When the superstar walked towards his car, bodyguard Shera as always was tagging along with him and when he saw a mike approaching the actor, he gets violent.

Shera extends his hand trying to stop reporter from approaching the actor and he gets physical in doing so, pushing the media mike hard.

You can watch it below!








Stay tuned for all updates!