CONGRATULATIONS ! Sunny Leone and Daniel Webber are PARENTS again !
Sunny and Daniel chose surrogacy to complete their family.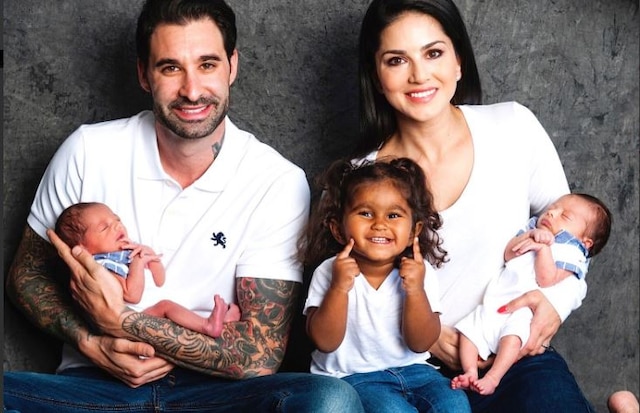 New Delhi:
Sunny Leone took all of us with a surprise with the sudden announcement about her twin boys.
Yes Sunny Leone has become mother to twin boys and has named them Asher Singh Weber and Noah Singh Weber. The boys were born a few weeks ago via surrogacy.
Sunny took to Twitter to announce and surprise everyone.
Sharing a family picture with husband Daniel Weber, daughter Nisha Kaur Weber and the two newborns , she wrote: " God's Plan ! June 21st was the day @dirrty99 and I found out that we might possible be having 3 children within a short amount of time. We planned and tried to have a family and after so many years our family is now complete with Asher Singh Weber, Noah Singh Weber and Nisha Kaur Weber. Our boys were born a few weeks ago but were alive in our hearts and eyes for many years. God planned something so special for us and gave us a large family.We are both the proud parents of three beautiful children. Surprise everyone!"
First adoption and now surrogacy, Sunny  and Daniel are setting new examples of parenthood.
They first had a daughter Nisha who they had adopted from Maharashtra in the year 2017. Nisha was 21 months old at the time of adoption.
Check out the family picture that she shared on social media.



God's Plan! Surprise! pic.twitter.com/PEwxTdGAAU


— Sunny Leone (@SunnyLeone) March 5, 2018

Just so there is no confusion Asher and Noah are our biological children. We chose surrogacy to complete our family many years ago and it's now finally complete :) so happy!

— Sunny Leone (@SunnyLeone) March 5, 2018

Well it indeed came as a surprise ..a good surprise and we wish them the best !