PIC: Deepika Padukone Stuns In No-Makeup Look On Vogue Magazine's Cover!
Deepika Padukone, who will next be seen in 'Chhapaaak',shoots a no-makeup cover for a fashion magazine.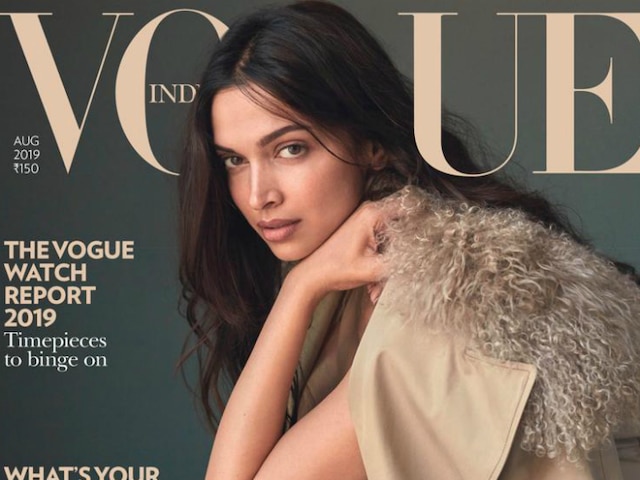 Deepika Padukone, as effervescent as she is, is also the trendsetter in the truest sense of the term. The latest cover of fashion magazine 'Vogue India' has the graceful beauty in a completely makeup free look as she continues to sizzle in simplicity. Known today as a powerful global icon, the leading lady of Bollywood gives the world a new statement in the cover of a leading fashion magazine.
Deepika, on the latest cover has gone completely makeup free and is looking absolutely stunning. It's a lesser chosen option in the world of fashion and glamour that a leading star has gone sans makeup and needless to say, Deepika looks as breathtaking as she would with makeup. More so, from essaying the role of an acid attach survivor in 'Chhapaak' to going de-glam for a global publication, this is truly a statement that Deepika has made and we laud her for going high on social perspective with the notions of beauty and choice of characters.
Take a look at Deepika's latest cover below:
Deepika Padukone On '83 With Hubby Ranveer Singh: It Has Been A Lighter Part Emotionally





Isn't she looking amazing?

"Complex Simplicity"- Writes Deepika Padukone With A Pic Holding Ranveer Singh's Hand In Her Latest Post!

'Chhapaak' is the story of an acid attack victim, wherein a moment of hatred ruined a woman's life. Beauty is something that is very very central and much hyped in anybody's life and constitutes the biggest part of a person's personality, as it puts a face to it, quite literally. The superstar who is playing an acid attack survivor will be seen in prosthetics but completely makeup free as she is set to redefine the notions of beauty set by society and break the conformity towards it. And,  the latest cover is an important and the most relevant step towards it.

The actress is known for her versatile choice of films and her de glam role for Chhapaak of 'Lakshmi' is a proof that the actress is a perfect blend of a critically and commercially proven actor who has essayed a variety of strong and powerful roles. Carrying a legacy of a diverse range of roles and making a striking entry at any event with classy style statement, Deepika Padukone is the epitome of beauty.

Apart from that, the dimpled beauty will also be playing the role of Kapil Dev's wife, Romi Bhatia in the upcoming Ranveer Singh starrer '83. The beautiful couple will be sharing the screen for the first time since their wedding.