Dhadak Vs Sairaat: Janhvi-Ishaan's starrer 'adaptation' of Nagraj Manjule's Marathi movie is an insult to Sairat!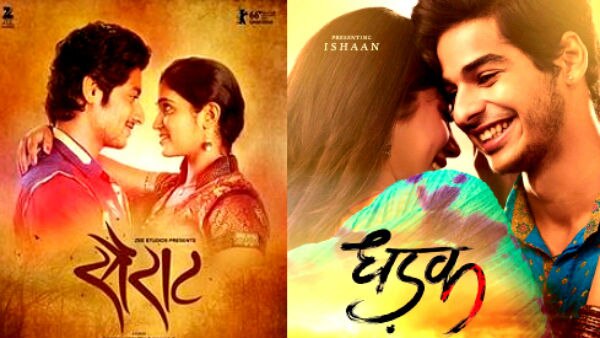 One of the much awaited flick of this year, 'Dhadak' starring newcomers, Janhvi Kapoor and Ishaan Khatter released worldwide today(July 20). The movie has been in news ever since it was announced for many reasons, it marked the debut of late legendary Sridevi's daughter. One of the most talked about point of the film was that Dhadak backed by Karan Johar's Dharma production is the official adaptation of cult Marathi movie 'Sairaat'. And my first reaction after watching the Bollywood remake was that the makers didn't really compliment but instead they insulted the regional blockbuster by completely ruining the soul of the film.
Janhvi-Ishaan in Dhadak(left) Vs Rinku Rajguru-Akash Thosar in Sairat

Dhadak Movie Review: Bollywood just ruined Marathi masterpiece Sairaat as Janhvi Kapoor fails to impress in her debut movie!

The film based on honour killing neither brings out an innocent love story nor gives a social message with its weak plot! The film fails to create a difference between its lead characters who are divided by their caste, the boy belonging to the lower section of society who falls in love with a girl belonging to the upper class. In Sairat, Parshya's father was a fisherman but in Dhadak, Madho's(Ishaan Khatter) father is a restaurateur. Unless at one point when he scolds his son for not falling for an upper caste girl you won't really be able to make out their difference. In Sairat, Archie was a rowdy girl who was fearless, bold and courageous here Parthavi(Janhvi) is a girl next-door who tries hard to look rustic in some scenes but all in vain!


Rinku Rajguru and Akash Thosar made their debut with Sairat

Dhadak: Early audience reactions OUT; Janhvi-Ishaan's film is getting MIXED reviews! 

Sairaat beautifully depicted the innocent love story between Archie and Parshya which again lost its charm in the Janhvi-Ishaan starrer. The duo made it look forced in many scenes and though the stars looked raw and innocent they are not able to bring it on screen with their poor performances. From weak plot to narration and screenplay the movie fails to grip the audiences and while you feel so connected with Sairaat with its hard hitting social message and larger than life characterization, Dhadak gives you many yawning moments.


Janhvi-Ishaan clearly fail in their debut movie

DHADAK: Janhvi Kapoor pens down a SPECIAL note for mom Sridevi

Despite of the makers already, having a beautiful story served in plate and they just had to remake it, yet they were not able to just follow it and forget adding up to the story or giving their own take, they weren't able to stick to the soul of 'Sairaat' ruining it completely in every aspect.