Election Results 2019: Vivek Oberoi shares yet another meme, this time on opposition leaders including Rahul Gandhi
"A humble request to you all - please spend less time hating #Modi and more time loving #Bharat" -writes 'PM Narendra Modi' actor along with his latest meme on Twitter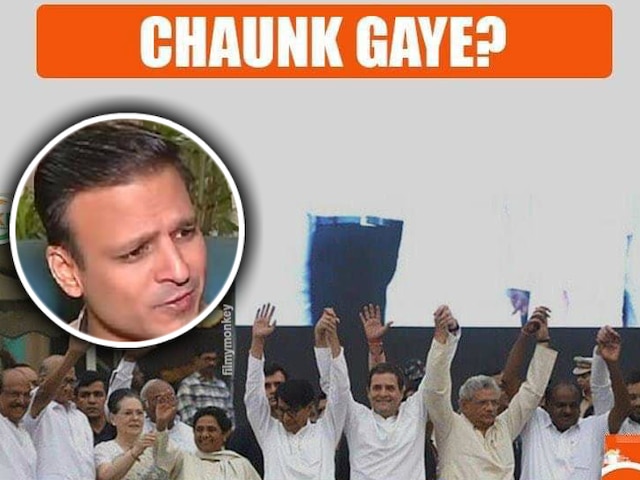 Actor Vivek Obeori who's portraying Prime Minister Narendra Modi in his biopic 'PM Narendra Modi' and which is finally releasing this Friday on 24th May, has been celebrating the humongous win of the BJP as the Lok Sabha Election 2019 results are being announced. Vivek has been posting tweets in Modi's support including the promotion of Omung Kumar directed biopic but his latest tweet is winning the BJP supporters. Vivek posted yet another meme picture on Twitter just a while ago in which the opposition leaders Mayawati, Rahul Gandh, Sitaram Yechuri and others can be seen with their hands raised in the air(in unity) but it is given a twist by using Modi-name-tagged packet of a washing detergent that dashes through their clothes leaving it more whitened indicating clean sweep. Copying a famous Ad-campaign of a washing detergent!
Election Results 2019: India wins yet again, says PM Modi as NDA nears 350
The text on the meme reads-
"Chaunk Gaye?"[as it's used in the Ad-campaign]


Vivek writes in the caption - "To all the politicians who were united by their hate against @narendramodi. A humble request to you all - please spend less time hating #Modi and more time loving #Bharat[Indian flag]. India needs a sensible opposition for a healthy democracy. Jai Hind  #ElectionResults2019 #ModiPhirSe".




To all the politicians who were united by their hate against @narendramodi. A humble request to you all - please spend less time hating #Modi and more time loving #Bharat????????. India needs a sensible opposition for a healthy democracy. Jai Hind ???????? #ElectionResults2019 #ModiPhirSe pic.twitter.com/KWthkLltIH


— Vivek Anand Oberoi (@vivekoberoi) May 23, 2019



ALSO - "How's the hate? Great sir!"- Bollywood actor on Pragya Thakur winning & Atishi losing!

Vivek had recently faced flak over his another election meme that used Aishwarya Rai Bachchan's life to explain the difference between 'Opinion Poll', 'Exit Poll' and 'Result' using her pictures with Salman Khan, Vivek Oberoi and Abhishek Bachchan-Aaradhya Bachchan.

After saying earlier that he is not sorry for posting it[Watch Video!], he deleted it on the following day apologizing for it.

Vivek was also slammed for it by celebrities from Bollywood and Sports like Sonam Kapoor, Jwala Gutta, Anupam Kher, Esha Gupta among others.

LIVE Update on Election Results 2019: Election Results 2019: NDA leading on 350 seats, to stake claim on May 26