Ellen pays heartfelt tribute to President Barack Obama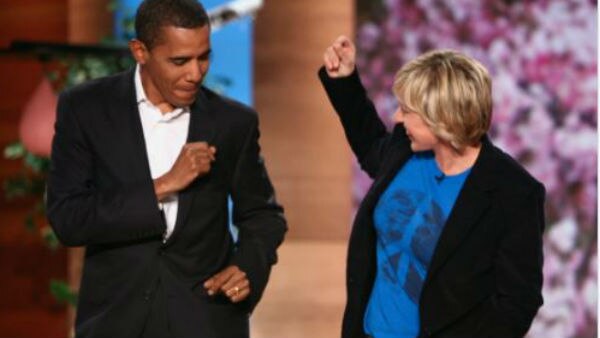 To commemorate President Barack Obama's final day in office, Ellen DeGeneres spent a few minutes of the latest episode of her talk show, saying goodbye to him and First Lady Michelle Obama.
The Ellen DeGeneres Show: Deepika to sit and chat on Ellen DeGeneres's couch
"I want to personally thank [Barack] for changing my life," DeGeneres said. "I am a legally married woman because of him, and so is my wife [Portia de Rossi]."
"His courage and compassion created equality for everyone," she continued. "He moved us forward and made more happen in the past eight years than I ever dreamed possible. I love him. I love Michelle."
Ellen then treated her audience with a special tribute montage featuring clips from her many encounters with the First Couple over the years.
The Obamas made several appearances on 'The Ellen DeGeneres Show' over the years. The president, 55, dropped by for the first time before he took office on October 29, 2007, and immediately kicked up his heels to dance with the host.



.@POTUS and @FLOTUS, we've had a wonderful time together. https://t.co/5yxY3yB0YO


— Ellen DeGeneres (@TheEllenShow) January 19, 2017
Some highlights included when she and FLOTUS had a push-ups competition and went shopping at CVS together, and when POTUS presented DeGeneres with the Presidential Medal of Freedom honor in November.
Robert De Niro comforts Ellen DeGeneres as she tears up receiving 'Presidential Medal Of Freedom'
"Thank you for everything President Obama and First Lady Michelle," DeGeneres said in closing. "We will miss you so much.
ANI