Esha Deol reveals why she named newborn daughter Miraya, Husband Bharat Takhani shares who she looks lik
Esha Deol became mommy for the second time on June 10th giving birth to a baby girl with husband Bharat Takhtani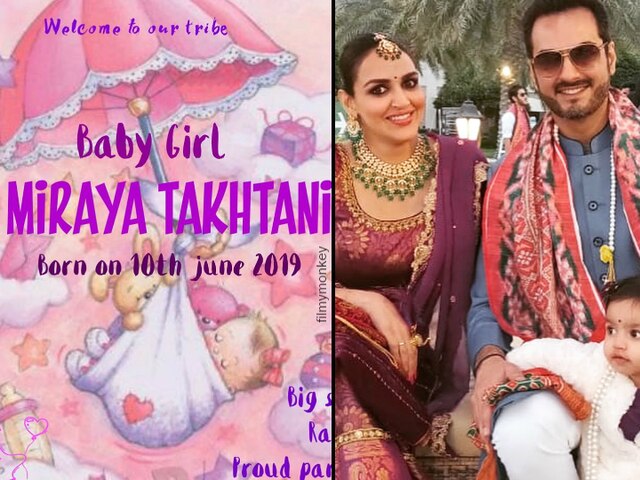 Dharmendra and Hema Malini's actress-daughter Esha Deol and her husband Bharat Takhtani became parents to their second child, a baby girl who was born two days ago on June 10th and the mommy-daddy 
made this announcement on Tuesday via their respective social media profiles.
 The couple who's already parents to a daughter Radhya Takhtani, named their second one Miraya. The newborn's maternal grand parents Hema and Dharmendra were by their daughter's side in the hospital and were
papped visiting her at the suburban hospital too[See PICS Here!]
.
And while we await to catch a glimpse of princess Miraya Takhtani, the father reveals who she looks like.
"I am a happy and proud father. Miraya looks like Esha, and Radhya looks like me. So, I am glad that we have babies who resemble us."
-Father Bharat Takhtani told Midday.
Esha added,
"Bharat and I are extremely happy and blessed. It's wonderful to have another girl in the family. Bharat is one lucky [guy] who will be surrounded by three beautiful women, all his life. Miraya and Radhya will complement each other."




Opening up on the name they gave to their daughters i.e. Radhya and Miraya, Esha told Mumbai mirror-
"When Lord Krishna worships Radha, it's called Radhya, while Miraya means a devotee of Lord Krishna. Both the girls have that in common and I love how Radhya and Miraya sound together".
And how do the maternal grand parents [Nana and Nani] and paternal grand parents [Dada Dadi]  feel about the arrival of the baby girl in the family?
Esha says futher -
"both sets of grandparents are over the moon with the new arrival as "for them it's more the merrier with grandchildren". "Celebrations had begun the moment we learnt that I was expecting. And the closer you get to the due date, the excitement in the house increases. Now, my sister (Ahana) and sisters-inlaw will decorate the house".


Hema Malini and Dharmendra visiting Esha Deol in hospital post Miraya Takhtani's birth on Tuesday (Pic: Manav Manglani)
Mommy Hema Malini obviously took a break from her political commitments in Mathura to be by daughter Esha's side and reportedly the new mom has asked her to take 10 days out from her busy schedule to be with family. 
"All of us are happy to have little Miraya in our family. It always feels nice to be surrounded with little angels"
-said Hema Malini.
Congratulations to Esha and Bharat once again on the arrival of Miraya Takhtani.
Also check out some adorable pregnancy pics o Esha. Links below!
-
Pregnant Esha Deol flaunts baby bump lying on a couch like a Boss, reveals she is in her 3rd trimester
-
Pregnant Esha Deol beams with joy at her baby shower ceremony! SEE PICS & VIDEO!
-
Lok Sabha Elections 2019- Pregnant Sameera Reddy & Esha Deol step out to vote, flash inked fingers flaunting their baby bump