Fatima Sana Shaikh REACTS to dating rumors with Aamir Khan! WATCH VIDEO!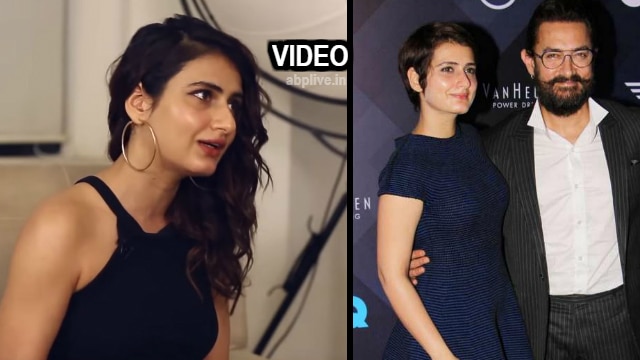 Aamir Khan's onscreen daughter from 'Dangal' and later his love interest in 'Thugs Of Hindostan', Fatima Sana Shaikh is rumored to have dated the superstar right after 'Dangal'. It was Aamir himself who cast her in TOH and as her leading lady, this fuelled the rumors further. Fatima has been tight lipped over such news reports and the talented actress finally opens up in a recent interview.
Fatima who was left heartbroke with 'Thugs Of Hindostan' failure, was in a conversation with Bollywood Hungama and this is when she was asked to comment on the link ups with Aamir Khan. Fatima also hit the headlines over her relationship with Aparshakti Khurana when the two were spotted hanging out together at lunches & dinners etc.
Fatima Sana Shaikh on a lunch outing with Aparshakti Khurana
Aamir Khan with Fatima Sana Shaikh at an event

Aamir Khan and Fatima Sana Sheikh become gym-buddies

Fatima finally speaks about the link ups with both the actors.

She says - "It's very weird! Because my mother keeps on watching TV and the other day she showed me "arre tumahra photo aaya hai!". Maine kaha dekho toh neeche kya likha hai!!! So you know it's very weird and i used to get disturbed! I felt like -you know- explain yourself.. Agar aapko koi accuse karega kisi cheez ke liye.. the first instinct is to come out and tell you ki bhai aisa kya hai kahan se aapko lag raha hai ki aisa hai! Or if you are an aggressive person then you will attack or if you are a submissive person, you will still talk about it! But now i do not feel the need to because i feel that no matter what you do, people are going to talk. Logon ke kaam hai bolna aur wo bolenge. No point getting affected by it!"

She adds further:

"People who write things like this are people who will meet me and meet me nicely... so i think it's their job! But.. I hope they sleep well![laughs!]"

Does it affect her relationships.. like with Aamir or Aparshakti? 

Fatima: "No yaar Aparshakti and AK[She refers to Aamir] are just too special to me. Why should i get affected by it! My relationship is very strong with them. I think even if i hang out with anybody.. You and me! Let's go out for 3 dinners together.. people are going to talk.. what to do!"

Watch video below: