From Prithviraj To Laxmmi Bomb, Akshay Kumar Lines Up Films For Major Festive Fridays In 2020
Akshay Kumar has several high-profile films including 'Prithviraj' and 'Laxmmi Bomb' that will release on major festivals next year.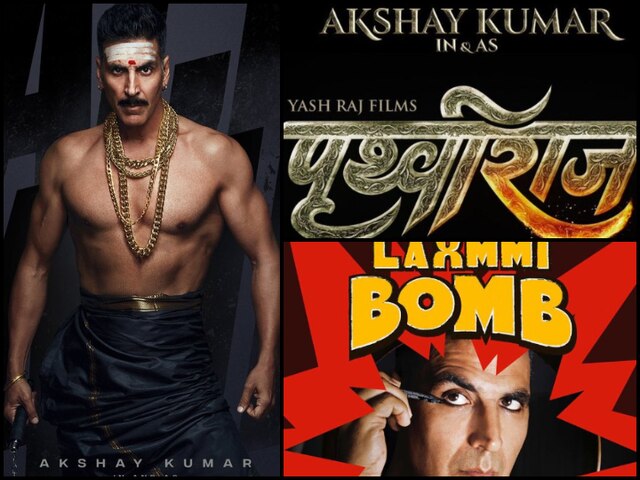 Mumbai
: Next year promises to be a great one for Akshay Kumar's fans. The Bollywood superstar, who celebrated his birthday on Monday, has lined up four high-profile films in 2020, and in each project he essays a different avatar. What's more, Akshay, who has emerged as Bollywood's most consistent superstar lately, has ensured three of the releases -- "Laxmmi Bomb" , "Prithviraj" and "Bachchan Pandey" -- will open on festive Fridays.
On his 52nd birthday, the versatile actor announced that he will play the Gurjar king Prithviraj Chauhan in the Diwali 2020 release. "Prithviraj". The horror comedy
"Laxxmi Bomb" is slated for Eid
(May 22), while the action drama "
Bachchan Pandey" has been lined up for Christmas
next year.
WATCH: Akshay Kumar Announces 'Prithviraj' On His 52nd Birthday; Shares Announcement Teaser With Fans!


Akshay's fourth film, "Sooryavanshi", is scheduled for a March 27 release.

Not only his roles, Akshay is also ensuring distinct get-up for his roles in "Bachchan Pandey", "Laxmmi Bomb" and 'Prithviraj".

In a "Bachchan Pandey" poster released a while back, he is seen sporting a moustache, a black lungi, a string of gold chains and vibhuti on his forehead. In the first look pic of "Laxmmi Bomb", the actor is seen applying kohl to his eyes in a moody close-up.

Also READ: John, Kriti & Other B-Town Celebs Wish Akshay Kumar On His 52nd Birthday!

Over the past couple of years, Akshay has been coming out with films on Independence Day, too. Fans are eager to see if Akshay manages to ready yet another film for August 15, 2020.