'Gold' Film Review: Akshay Kumar's stellar performance makes this sports drama a must watch this Independence Day!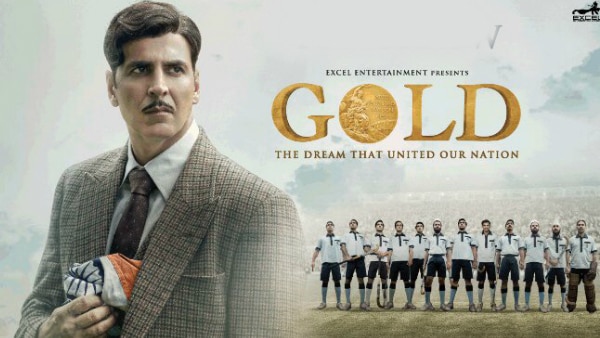 Director : Reema Kagti
Star cast: Akshay Kumar, Amit Sadh, Mouni Roy, Kunal Kapoor, Vineet Kumar Singh, Nikita Dutta, Sunny Kaushal
Duration: 2 hours 34 minutes
Rating: 3 stars

Congratulations to Akshay Kumar and team Gold for bringing up a perfect Independence Day gift for fans. The movie will surely ignite patriotism and will leave you with goosebumps when you leave the theatre.

Helmed by Reema Kagti, Gold is inspired by true events of India's first Gold medal at the 1948 Olympics in London as an independent nation.

Story: Tapan Das(Akshay Kumar) an upper middle class man lives with his wife Monabina(Mouni Roy).His only dream is to build a dream Indian hockey team who will bring Gold Medal for his country so that he can see his tricolor hoisting high in the British land. He is appointment as the co-manager and a selection committee member and from then he starts his journey of selecting good players from all over India.He is assisted by Samrat(Kunal Kapoor)who was the winning captain under the British rule and helped Tapan in coaching the boys . So is Tapan successful in building the winning team and do they win gold at the London Olympics, 1948 is the story of Gold.

Review: 'Gold' recreates the journey of the lesser-known Indian Hockey team that defeated the Britishers on their own soil at the 1948 Olympics.

The film begins in 1936, when India made big impact in world hockey and won its third consecutive gold at the Berlin Olympics. However the team was called British India team and was managed by the British Raj and despite of winning, neither the Indian flag was hoisted nor our national anthem was played and this irked a determined Bengali junior manager of the British India team, to take a task up the to form a new team for free India who will participate at the 1948 Olympics in London. His dream was to see the Indian flag furling high on British soil, which would be a moment of pride for every Indian.

'Gold' isn't just a film on hockey, it's also a period film that recreates an era long forgotten blending its characters in a perfect manner. Full marks to director Reema Kagti for telling an insightful story and taking us back to that moment in history, which is not often spoken about or celebrated.

Acting: One reason that makes the movie a must watch is the stellar performances by the stellar cast . Akshay as the dhoti clad team manager instantly connects with the audience and no wonder lifts the movie on his shoulders. Kunal Kapoor holds his own as a senior player and later on a coach of the Indian team in a restrained but solid performance. Vineet Kumar Singh delivers a knockout performance once again after Mukkabaaz. Amit Sadh has the meatiest role of all the supporting cast and looks fantastic as an uptight prince who learns some valuable lessons in life while being the Vice Captain of the team. Sunny Kaushal, as a player with a heart and hot temper, shows a spark of brilliance. Mouni Roy, who marks her debut in Bollywood as the feisty Bengali wife, looks promising. She is already a TV star and handles her brief role in the movie effortlessly.

The movie also shows how a dream of a previous generation is fulfilled by the next generation and runs high on emotions.

There are moments which will touch your heart and give goosebumps as during the climax there's a scene where Pakistani players cheer for Indians playing on the field. Moments like these make 'Gold' a film which is more than just a sports drama. The movie will surely hit Gold at the box office and will make you patriotic at the same time.

Overall Gold is a fantastic sports drama with great performances by the entire star cast which you just can't afford to miss this Independence Day. Go watch it at a theatre near you.