Half-sister Anshula Kapoor SLAMS haters of Janhvi and Khushi Kapoor
Anshula Kapoor comes out in support of Sridevi's daughters Khushi and Janhvi.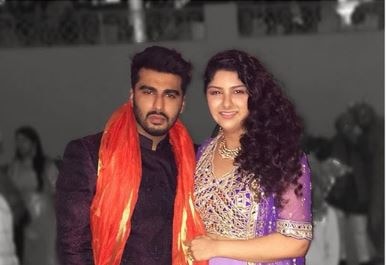 New Delhi: 
As the Kapoor family is struggling with the untimely demise of Sridevi Kapoor, one thing that is impressing everybody is the unity of the family.
At the time of the setback, all the Kapoors stood strongly by each other. What really amazed people was the support of Boney Kapoor's children from his first wife, Arjun Kapoor and Anshula Kapoor.
Anshula has slammed haters who were trolling Khushi and Janhvi on her Instagram post.
Given the fact that Arjun and  Anshula had to bear with the detachment of their father after his second marriage, some of their fans clearly are not very much in favour of Sridevi and her daughters.
However Anshula has given a stern reply to the haters who abused Khushi and Janhvi. Replying to a comment that targeted the young sisters, Anshula wrote: "hi, I'm requesting you to refrain from using abusive language especially towards my sisters, I do not appreciate it & have therefore deleted ur comments. While I am grateful for your passion & love for bhai & me, just a small correction - I was never working outside India. Let's please spread joy & good vibes. Thank you for the love . "
Anshula shared these lines on Instagram, "No matter how Chaotic it is, wildflowers will still spring up in the middle of nowhere." She captioned the post: "Strong willed, they dare to blossom & hold their own, spreading their beauty wherever the wind takes them. Wildflowers dare greatly."


Anshula Kapoor slammed a hater in the comment section. Check it out.
Anshula Kapoor's reply to haters on her post/ Image: Instagram
Despite a complex history, Arjun Kapoor and his sister Anshula Kapoor showed undeterred support towards father Boney Kapoor and half-sisters Janhvi Kapoor and Khushi Kapoor.
In his note, Sridevi's husband Boney Kapoor too acknowledged the support of his children Arjun and Anshula.
It is also being said that Arjun Kapoor's latest Instagram post is directed towards father Boney and half-sisters Khushi and Janhvi.


In an interview, post the demise of Mona Kapoor, Boney Kapoor's first wife, Arjun had said that there is no bonding between his half-sisters and him, as they do not meet and hangout, so apparently there doesn't exist any relation.
However, in the face of tragedy, Arjun's rock-solid support won everybody's appreciation.
More power to the family.