Hardik Pandya's ex-girlfriend Elli Avram reacts on 'Koffee With Karan 6' controversy, "this kind of mentality is not cool"!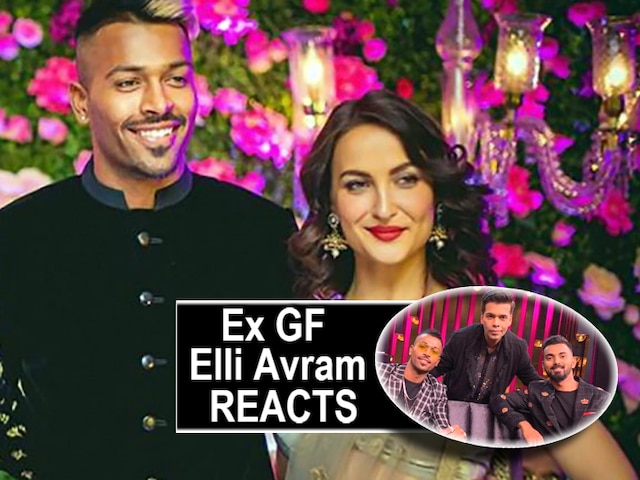 After the telecast of 'Koffee With Karan 6' episode with cricketer-guests Hardik Pandya and K L Rahul two weeks ago, the duo have been constantly in headlines for their sexist comments they made sitting on the Koffee couch. They were slammed on social media and despite their apology to fans, Pandya and Rahul were suspended by the BCCI and ousted from a three-match ODI series against Australia in Sydney.
Hardik Pandya is rumored to have dated 'Mickey Virus' actress Elli Avram some time back who's currently making waves with her sensational dance moves in 'Chamma Chamma' item song from Arshad Warsi's 'Fraud Saiyaan', They never accepted that they were ever seeing each other but were spotted at wedding functions and dates together. Elli attended the Lions Gold Awards 2019 held in Mumbai on Thursday night where she was asked to react to Hardik-controversy.
Elli was very vocal about her opinion on the matter which she wasn't aware about earlier but she says she did catch the footage of the controversial 'KWK 6' episode that is no more available online since it was pulled down by Hotstar post controversy. Elli who reportedly broke up with Hardik just a few months ago, did not hesitate and talked at length speaking on this issue.


Hardik Pandya and Elli Avram have BROKEN-UP!

Elli begins by saying - "Ok! so.. regarding this... like i said i just came back to India and i have been getting messages from journalists who have been asking me questions regarding this and i had no idea what they were talking about. But then i have seen certain footage and...[gestures with hands & takes a pause]..yeah! like how he has spoken and i just think it's very sad! I got a little bit surprised because that's not really the Hardik Pandya i personally once used to know! But yeah! i think it's great that people are reacting and putting their foot down on this kind of behavior because it's about time we all realize that this kind of mentality is not cool. Neither is it something to brag about."

Hardik was bragging about the women in his life by saying many objectionable things like.. "I like to watch and observe how they (women) move. I'm little from the black side so I need to see how they move"- talking about parties. He also said that when he lost his virginity, he bragged to his parents saying "aaj mai karke aaya!". He also narrates that when at a party, his parents would point at multiple women asking "tera wala kaun sa hai" and he would go "ye ye aur ye" as "I have something going on with each of them". Talking about dating the same woman, Hardik and Rahul said "talent pe depend karta hai".

After show's telecast, the Kwk episode snippets, videos and picture-memes carrying Hardik and Rahul's objectionable comments were flooding the social media sites in the following days. The fans were lashing out at him.

Elli added further: "I mean we are living in 2019 and women are now having a voice, they speak up for themselves and they are not tolerating to be disrespected or looked upon as an object. So yeah! that's what i believe and i think it's great.

She also spoke on their suspension and finds it right to happen.

Elli said: "On terms of what is happening from what i read..they are getting suspended right? I mean i just feel when you get an opportunity to represent your country, it's a really big privilege to get that and it shouldn't be taken lightly! I believe because by the end of the day the youth that is our next generation are actually..they are watching and learning from their idols. So.. that's all i have to say on this!"

PICS: Ex 'Bigg Boss' hottie Elli AvrRam spotted with alleged beau Hardik Pandya again!

Many celebrities have slammed the duo for their comments including Indian cricket team captain Virat Kohli who told reporters last week that the "inappropriate comments" were something he and his team "definitely don't support".

Watch Elli Avram's video reacting to Hardik Pandya's 'Koffee With Karan 6' controversy, below: