Here's A Closer Look At Esha Deol's Newborn Daughter Miraya Takhtani Who Came Out In Public First Time Since Birth In June!
Here's closer look at Esha Deol's newborn daughter Miraya Takhtani who came out in public first time since birth during sister Radhya's 2nd Birthday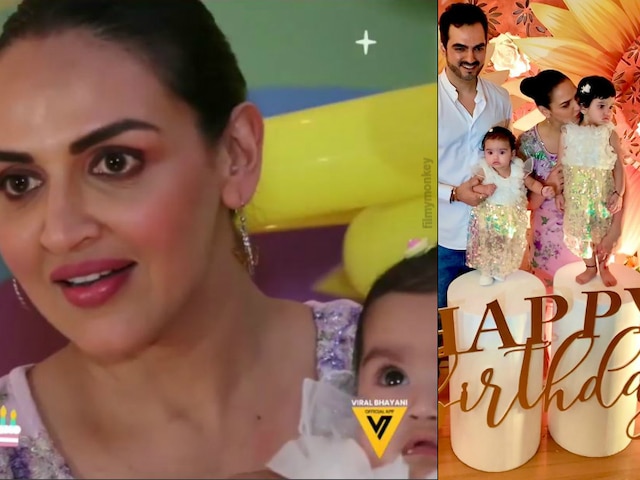 Bollywood actress Esha Deol and her businessman husband Bharat Takhtani threw a big party for their first born, elder daughter Radhya Takhtani as the cutie turned 2 on Sunday and while the pictures of star kids and celebrities are all over the internet[
Esha Deol's Daughter Radhya's Birthday Bash: Inaaya Naumi Kemmu, Taimur Ali Khan & Others Attend
], the one picture that took social media by storm, was the family portrait mommy shared with her newborn featuring in it too. Couple finally shared the first glimpse of their second child Miraya Takhtani, who was born 4 months ago in June, posing with her at Radhya's party. Earlier the parents always avoided posting pictures of their younger daughter despite regularly updating their social media profiles with family pics.
Finally Esha shared the picture and we already
showed you this afternoon how it is making hearts melt with fans loving this first glimpse of the baby.
Esha shared a full picture of the four of them posing at the Birthday bash.


And finally here is a closer look at the adorable Miraya Takhtani that the Bollywood paparazzi Viral Bhayani captured in his camera at the party. Miraya looks exactly like Radhya in this video as the camera zooms into her face.
Check out the video below: 


Earlier, while talking about their newborn, the parents had explained the meaning of their daughter's name 'Miraya' and Bharat also said- 
I am a happy and proud father. Miraya looks like Esha, and Radhya looks like me. So, I am glad that we have babies who resemble us."
 quoted by Midday.
-Esha Deol reveals why she named newborn daughter Miraya, Husband Bharat Takhani shares who she looks like!
-Esha Deol's Daughter Radhya Takhtani Checks Out Her Shoulder Tattoo 'Om' & Her Expressions Are Adorable!
-Esha Deol & Daughter Radhya Walk The Ramp Together At Lakme Fashion Week 2019! (See PICS & VIDEO)