'Housefull 4' team CLARIFIES alleged molestation with junior artist didn't take place on film's sets!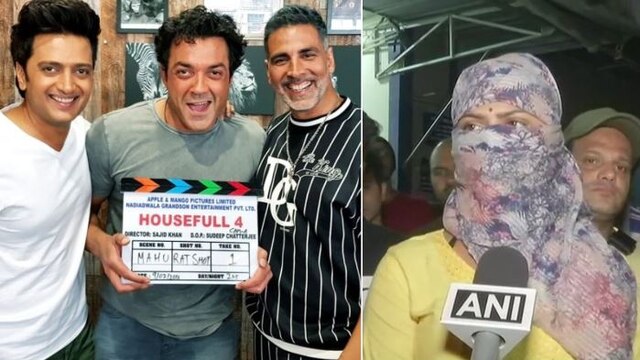 By:

ANI
Updated:
26 Oct 2018 03:37 PM
The makers of
'Housefull 4' on Friday clarified that the alleged molestation with the junior artist
did not take place on the film's sets.
The statement added that Akshay Kumar and Ritiesh Deshmukh, who are a part of the flick, had packed up way before this incident occurred.
A female junior artist was allegedly molested on the sets of the fourth installment of 'Housefull' on Thursday night after which she had filed a First Information Report (FIR) against the accused.



Was sitting with a colleague when suddenly 2 men Pawan Shetty&Sagar&4 others came&tried to take away my colleague forcefully. They also threatened. I tried to stop them. Shetty started pushing me&touched my pvt parts. I've filed a molestation case. I want him behind bars: Victim pic.twitter.com/nDQ8uPSQ2q


— ANI (@ANI) October 26, 2018
Talking about the incident, Manoj Mitra, Executive Producer of 'Housefull 4' said, "It is disheartening to hear about this incident. I would like to clarify that the recent incident that showed up in the news related to the sets of the film, is something that evidently did not happen on the sets or during the shoot; it took place off the sets and hence I have to state that it is beyond our capabilities."


#MeToo: Sanjay Dutt or Anil Kapoor to replace Nana Patekar in 'Housefull 4' after harassment allegations?

Narrating her ordeal, the victim had told ANI that she was sitting with a colleague on the sets of the movie, when two men namely, Pawan Shetty, Sagar along with four other men, came and began misbehaving with her friend. "When I started screaming, the production people and Akshay and Riteish, they also came outside. They only gave us the idea that we should call the police. The accused men ran away when they saw the production people and others," she had said.

#MeToo: Akshay Kumar cancels 'Housefull 4' after director Sajid Khan accused of sexual harassment by 3 women!

However, refuting the claims of the junior artist, Mitra said, "I would also like to clarify that Akshay and Riteish had packed up way before this incident occurred. It was their personal matter and nothing related to our film shoot."

Meanwhile, Raman Dave, who is the head of the dancers, said, "We have learned that the argument was between the dancers and Pawan Shetty (who is an outsider) and it has nothing to do with our film."

Dave added that he had left from the shoot when the incident took place, "but my set attendant Sandra was there on the sets and even she has mentioned that nothing happened on the set. All the details reported about this incident failed to be true and it did not happen on our sets."