I am done with Kangana playing the victim card; leave Bollywood if it's bad: Karan Johar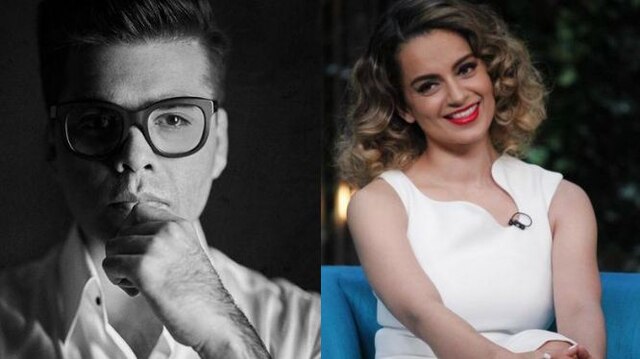 New Delhi: Bollywood actress Kangana Ranaut is known for her performance oriented roles. But apart from that, she is more known for being bold, upfront. She is definitely not the one to mince her words when it comes to speaking.
Kangana's recent appearance on popular celebrity talk show Koffee With Karan stirred some controversy for the host Karan Johar. In the episode, Kangana accused Karan by calling him 'Movie mafia' and 'Falg bearer of Nepotism in Bollywood'.
Finally, Karan has given his real reaction on this remark. During an event, Karan was asked about it and he said "She was my guest and I had to hear what she had to say. When she says 'Flag bearer of Nepotism', I want to say her, I am glad she knows what it means."
He further said "I am done with Kangana playing the woman and victim card. You cannot be victim at every time that has some sad story to tell. If industry is bad, leave it."
Check out this video:



@karanjohar response to @KanganaRanaut calling him a 'Flag-bearer of nepotism' Well said! KaranJohar @KaranJoharTeam pic.twitter.com/lCD0ej1v8o


— Neha Bhatt (@iAmNehaBhatt) March 5, 2017
This is actually savage! But will 'Queen' react to this too?
Although Kangana has given many hit movies in the recent past like Queen, Tanu Weds Manu 2. But her newly released film Rangoon, starring Saif Ali Khan and Shahid Kapoor is not performing well at the Box Office.