INSIDE PARTY PICS: Shahid-Mira's Daughter Misha Had Joint Birthday Celebration With Zain Kapoor, Cousin Sister Was Born The Same Day Too!
The fresh pictures from inside Birthday party held in Mumbai on Monday reveal it was a joint celebration for Shahid Kapoor-Mira Rajput's kids Misha Kapoor & Zain Kapoor while their princess shared Birthday also with her cousin sister Suhaani Wadhwani, the daughter of Mira's sister Noor Wadhwani.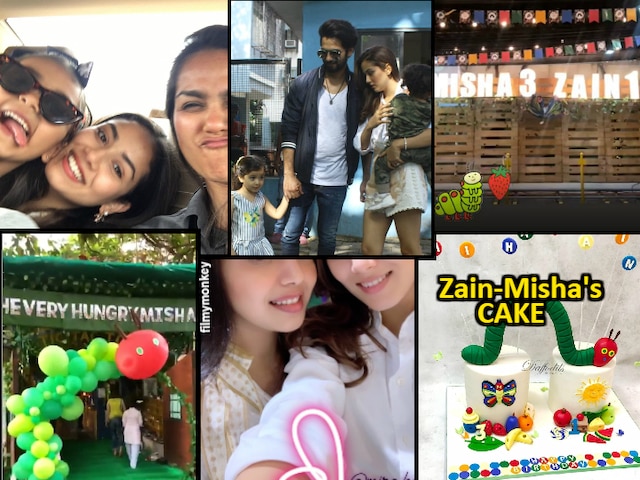 Shahid Kapoor and Mira Rajput thew a Birthday party for their elder daughter Misha Kapoor on Monday as she turned 3 but now the inside pictures from the bash reveal that it indeed was a joint Birthday celebration for Misha as well as her little brother Zain Kapoor. Zain is turning 1 on September 5th next month and the parents had an arrangement for both their Birthday celebrations with two Birthday cakes at the party. Also, Mira's sister Noor Wadhwani's daughter Suhaana celebrated her birthday yesterday on the same date as Misha. Mira posted an adorable throwback picture with her sister and niece from inside a car and wrote in caption wishing Suhaana Wadhwani-
"Happy Birthday to my princess, Suhaana! I think I love you sooo much that I got a little one just like you on your birthday! Love you forever sweetheart! #birthdaytwin #soulsisters#elsaandanna". 


Shahid Kapoor and Mira Rajput celebrate their elder daughter Misha Kapoor's 3rd Birthday and the couple hosted a bash in Mumbai for the same. (Pic: Manav Manglani)
Mira also shared another throwback picture of Suhaana with the little Misha from recent years and wished them both using #BirthdayTwins



View this post on Instagram
So it was a celebration of 3 children in the Mira Rajput's family. Mira's mom Bela Rajput, Shahid Kapoor's father Pankaj Kapur with wife Supriya Pathak, mom Neelima Azim and half brother Ishaan Khatter had attended the Birthday party of Zain and Misha.



View this post on Instagram
Inside Misha Kapoor & Zain Kapoor's joint Birthday celebration bash in Mumbai on Monday (Pic: Instagram)
More pictures from the bash have been shared by the organizers and Mira on Instagram however none have shared any picture or video featuring the guests or the hosts in them apart from one in which Mira poses with a member of the team. The party was also attended by cute star kids like Shah Rukh Khan's son Abram Khan, Inaaya Naumi Kemmu who was accompanied by parents Soha Ali Khan-Kunal Kemmu, Radhya Takhtani who arrived with mom Esha Deol, Karan Johar's twin kids Yash-Roohi Johar and Varun Dhawan's niece Niyara who came with mom Jaanvi Desai Dhawan(wife of actor's elder brother Rohit Dhawan).
Varun Dhawan's sister-in-law Jaanvi Dhawan with daughter Niraya(Pic: Manav Manglani)
MORE PICS! Star Kids Inaaya Naumi Kemmu, Yash-Roohi Johar, Radhya Takhtani, Abram Khan Arrive At Misha Kapoor's 3rd Birthday bash!
And here are the inside pictures of the bash that had the joint celebration cake for Zain-Misha in 'The Hungry Caterpillar' theme. Mira also shared a picture from the party on Insta-story thanking the organizers and which has written on a huge card- "....and then MISHA became a beautiful butterfly! ....and ZAIN became a buzzing bee!". Mira wrote to them thanking-
"A big thank you to my dearest and most talented friend for the most beautiful Birthday Misha and Zain could have asked for @Shilmulmodi".
Mira Rajput with Shimul Modi at her daughter Misha Kapoor and son Zain Kapoor's joint Birthday celebration in Mumbai
And here's a look at some more pictures from inside the party including the caterpillar themed cake for both.


Inside Misha Kapoor & Zain Kapoor's joint Birthday celebration bash in Mumbai on Monday (Pic: Instagram)
Inside Misha Kapoor & Zain Kapoor's joint Birthday celebration bash in Mumbai on Monday (Pic: Instagram)