Judgementall Hai Kya Movie Review: Kangana Ranaut Owns This Trippy Black Comedy With Her Brilliant Performance!
Judgementall Hai Kya Movie Review: Kangana Ranaut Owns This Trippy Black Comedy With Her Brilliant Performance!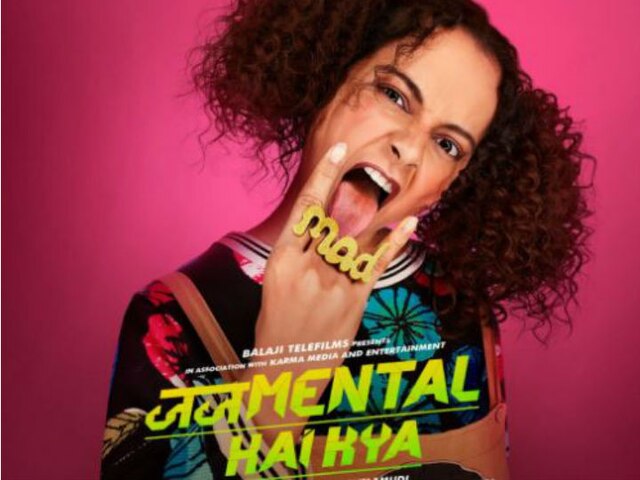 Movie:
Judgementall Hai Kya
Director:
Prakesh Kovelamudi
Star Cast:
Kangana Ranaut, Rajkumar Rao, Amyra Dastur, Amrita Puri, Jimmy Shergill


Duration: 120 minutes

Ratings: 3 Stars

Is there anything Kangana Ranaut can't do? Well the answer is no! After winning hearts earlier this year as Rani Laxmibai in Manikarnika: The Queen of Jhansi, the fiery Bollywood actress is back with her another brilliant performance in debutante Bollywood director Prakesh Kovelamudi film Judgementall Hai Kya that released worldwide this Friday.

Story: Bobby(Kangana Ranaut) is a dubbing artist who is battling with an acute psychosis in her adult years after a brutal childhood trauma of her parents' death. She lives alone under the supervision of an ailing tauji. Her life turns upside down when she meets her new tenants, a young married couple Keshav(Rajkumar Rao) & wife Reema(Amyra Dastur). Soon Reema dies in a fire accident and Bobby suspects Keshav has a role to play in the crime.

Review: The film mixes black humour and suspense along with a social message in a subtle way without being preachy. Kangana Ranaut convincingly depicts her onscreen character of Bobby. She has been to the mental asylum and back, is prone to hallucinations, and brutal childhood memory has left the scar of acute psychosis in her mind.

This is a Bollywood movie of a very different genre which shows the tried and tested formula of good wins over bad, the best part of the film is that it keeps the element of suspense alive till the end.

The first half of the movie keeps you gripped and establishes Kangana's character. After spending some time in an asylum as a punishment for assaulting a co-worker, Bobby(Kangana Ranaut) is let off on the condition that she will stick with her medication. She however skips her medicines as it makes her feel trippy and sleepy all the time making the character look real.

'Judgementall Hai Kya' Celeb Review: Kangana Ranaut & Rajkummar Rao's Film Receives A Thumbs Up From Bollywood!

She wants to live a normal life aspiring to become an actress, Bobby is a dubbing artist for movies, where she does voiceovers for the female lead characters. And due to her psychotic condition she literally starts living in the character that has voiced. For every time she dubs, she gets obsessed with her onscreen avatar and imagines herself in place of the character. This obsession is narrated by the director in a very cool and quirky manner. One prominent characteristic feature that she has is her observing nature. She is always alarmed by the things going around her.

And while the first half builds up well, blending drama with humour and introducing interesting characters, the movie loses its grip in the second half.

Post interval, the film focuses more on drama and looks unconvincing at times. Suddenly it looks like makers are focusing on too many dimensions at times, the cat & mouse chase between Kangana and Rajkumar too looks forced and you might feel like taking breaks. The climax looks quite predictable and the execution could have been better.


poster of the film

Acting: Kangana is the hero of her films and this one is no different. The actress clearly owns the movie with her top notch performance. She looks brilliant and very convincingly gets into the skin of her character Bobby. Rajkummar Rao looks fantastic like always as the mysterious Keshav but fails to overpower Kangana when the duo shares a scene together. In the supporting roles,  Jimmy Sheirgill impresses with a different character from what he has been playing lately. Amrita Puri too plays her part well,  Hussain Dalal as Kangana's onscreen boyfriend brings in the comic quotient.

Overall 'Judgementall Hai Kya' is a well made film with some flaws but you don't have to be too judgmental about it as not everyday a film belonging to this genre in Bollywood is made and kudos to director for the attempt.