Kangana Ranaut's ex boyfriend Adhyayan Suman DATING 'Splitsvilla 11' contestant Maera Mishra?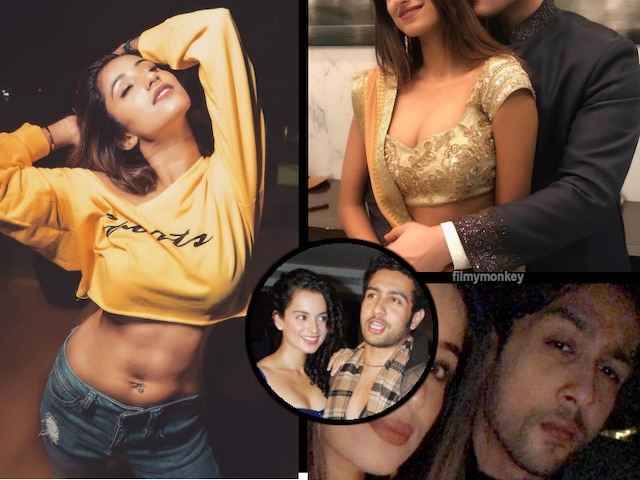 'Raaz – The Mystery Continues' fame actor Adhyayan Suman who was dating a doctor-model-writer named Stuti Sharma recently, seem to have parted ways with her and moved on to the new love who's currently seen on MTV show 'Splitsvilla' season 11. Girl named Maera Mishra and Adhyayan Suman are the new love birds of the tinsel town if their respective Instagram activities are to go by. The 'Saareyan Nu Chaddeya' singer was celebrating his 31st birthday yesterday and he chose the day to also introduce his new girlfriend to the world. Adhyayan posted a picture with Maera and captioned it-
"Can we keep each other company ? ❤️ @maeramishra"
tagging his lady love while Maera on the other hand uploaded a cozy pic with her beau as he hugs are romantically from behind and writes in her birthday wishes for her on her Instagram profile -
"Let me love you?❤️ Happy Birthday![hug emoji]".
Both of them indulged in PDA as they responded to each other's Insta post too in the comments section.
While Maera's reply to Adhyayan read -
"Always [heart emoji]"
, he writes on her post -
"No limit in the sky that i won't fly for ya!"
Check out below: 


Adhyayan Suman and 'Splitsvilla 11' contestant Maera Mishra indulge in PDA on Instagram


Adhyayan Suman and 'Splitsvilla 11' contestant Maera Mishra indulge in PDA on Instagram
And they two are even responding to other congratulatory comments with heart emojis and thankful notes. There is nothing more to speculate that the two indeed are dating and this looks a very recent development, here's why!
In 2017, Adhyayan Suman hit the headlines for a change over his love life and not in relation with his ugly past with 'Manikarnika -The Queen Of Jhansi' actress Kangana Ranaut or their nasty potshots they have been taking at each other, when he confirmed he was dating Stuti Sharma. The hot doctor-model-writer combined in one, has been tweeting about her ex-beau until two months ago and her Twitter timeline is proof.
Stuti's last tweet about Adhyayan was 
posted in October 2018
in support of his #MeToo statement against Kangana, then.
Adhyayan Suman's ex-girlfriend Stuti Sharma's tweet in his support
Adhyayan Suman with ex-girlfriend Stuti Sharma during their dating days (Pic: Twitter)
Adhyayan Suman: When I shared my #MeToo story 2 years ago 'I was humiliated and shamed'
Adhyayan on the other hand has removed all Instragram posts he had uploaded with or about Stuti. A clinical Audiologist and Speech Therapist, Dr. Stuti Sharma from Delhi, was even the inspiration behind his Punjabi-Hindi single 'Main Saare Nu Chadiya' that was released in 2017.
However the new girl in Adhyayan's life is Maera and they seem to have met lately. Although they look ready to take their relationship forward which is evident from their Instagram posts.
Maera was also part of his Birthday celebration with his family and we can spot his father Shekhar Suman also posing in the group picture along with these two.
Adhyayan Suman with his new girlfriend & Splitsvilla 11 contestant Maera Mishra and dad Shekhar Suman during his Birthday celebration on Sunday i.e. 13th January
While Adhyayan's movies have been box office disasters in the past years, Maera on the other hand is one of the popular contestants in currently on-air show 'MTV Splitsvilla 11'. Maera who has also featured in shows like 'Savdhaan India', 'Fear Files', 'Dream Girl', 'Bhanwar' among others, has reportedly bagged a lead role in an upcoming Star Plus show next.
'MTV Splitsvilla 11' contestant Maera Mishra bags lead role in upcoming 'Star Plus' show?
Adhyayan Suman's new girlfriend Maera Misha with 'Splitsvilla 11' team
Adhyayan also debuted as a singer in 2017 and his first single was loved by many music industry biggies.
Adhyayan Suman debuts as singer; Sonu Nigam, Sunidhi praise first song 'Saareyan Nu Chaddeya'!
Although the couple Adhyayan and Maera are yet to officially announce they are dating, but we want to know the 'Splitsvilla XI' fans what they think about these new love birds?