Koffee With Karan 6: Karan Johar finally speaks on the Hardik Pandya-K L Rahul controversy saying "I feel responsible"!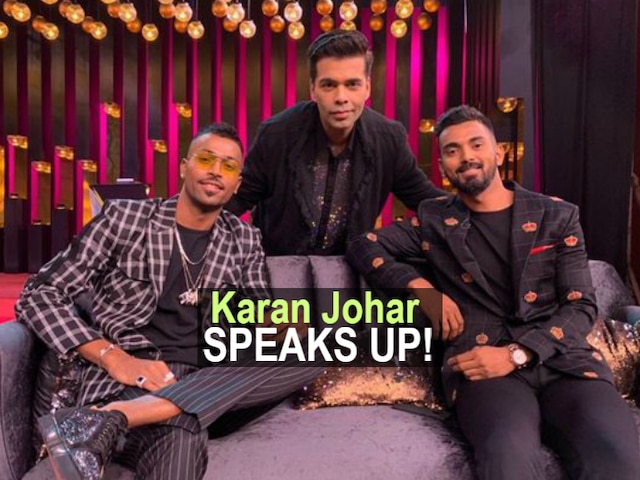 Breaking his silence for the first time ever since Indian cricketers Hardik Pandya and KL Rahul faced backlash and were slapped with an indefinite suspension pending BCCI's inquiry for their unacceptable remarks on his talk show, filmmaker Karan Johar took all the responsibility for the events, saying he would do anything to restore the image of the cricketers.
"I have to say that I feel very responsible because it was my show, it was my platform. I invited them as guests and so the ramifications and repercussion of the show are my responsibility. I have had so many so many sleepless nights just wondering about how I can undo this damage, who is gonna listen to me. It's now gone into a zone which is beyond my control," Karan Johar told ET Now.
ALSO -
Watch Hardik Pandya's Ex-girlfriend Elli Avram REACT STRONGLY on his sexist comments on 'Koffee With Karan 6'.. Says -"this kind of mentality is not cool!"


Pandya and Rahul were asked to return to India mid-way from the Australia tour for their inappropriate and sexists comments in an episode of 'Koffe With Karan' hosted by the 46-year-old filmmaker.

With no intentions of defending himself, Karan added that the questions asked on the show were not gender specific and he had asked the same to Bollywood actresses like Alia Bhatt and Deepika Padukone.

"I have to say and I don't defend myself when I say this. I have to say that the questions that I asked the two boys are the questions I ask everyone including women. Deepika (Padukone) and Alia (Bhatt) were on the show, I asked them those questions. I have no control about the answers that come my way," Karan added

Meanwhile, Rahul and Hardik are still out of the Indian side and will have to wait for the outcome of BCCI's inquiry, which, unfortunately, s yet to begin because of the absence of an official ombudsman. The Supreme Court has set February 5 as the date for the BCCI case hearing. This has put the duo's participation in the IPL and the World Cup 2019 in serious doubt.

Koffee With Karan 6: After backlash, Hardik Pandya apologises for his comments on Karan Johar's show!

Notably, both the cricketers had submitted written apologies to the board and assured the board of never repeating the conduct that could not only harm their image but also put question marks on the game itself.