Lisa Haydon poses underwater with her 1yr old son Zack.. leaving some shocked, while others in Awe!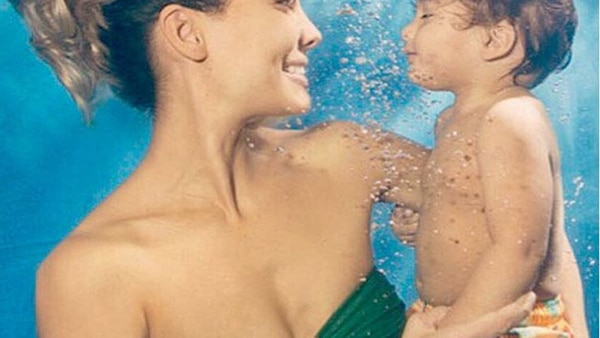 Actress who was seen in multiple Bollywood films including Kangana Ranaut's 'Queen' in which she played the  pivotal character called 'Vijayalakshmi', just shared a picture from her swimming class with newborn Zack Lalvani and it will pleasantly surprise you.
Lisa became a Mommy to her adorable son named Zack Lalwani a year ago and the hottie regularly posts pictures with her munchkin while donning skimpy clothes and therefore is a favorite on social media.

TOO HOT TO HANDLE! Actress Lisa Haydon cycling on the beach in a SEXY BLACK SWIMSUIT!

However a latest picture she posted has raises eyebrows with also a lot of praise pouring in.

It is a picture of bikini clad Mom posing with her cutie submerged inside water during swimming class. As the mother is adorable seen looking at her baby, he in Mommy's arms, with his eyes closed seem at total peace feeling safe and unaffected with the underwater 'stunt'.

The picture is hot as well as cute at the same time, and also is shocking to many!

Lisa writes with it - "Every Thursday we have swimming class.. our favourite day of the week. Last week all the kids took underwater photos with their mummies. This was ours. ???? by @elaunderwater"






The picture is drawing a lot of attention and while some are worried about the kid, the others are totally in Awe of this picture.

Fans are giving mixed reactions, and those who are raising questions also seem to be sure that the Mom is and must be careful about her kiddo while doing this. Afterall it's a swimming lesson class!


Fans react to Lisa Haydon's picture posing with her 1 yr old son Zack Lalvani underwater during swimming class

Lisa had earlier shared another scorching picture..or should we say cute one? when she in her bikini rides a swing on a beach with Zack sitting in her lap wearing no clothes.

She captions it simply with a rainbow icon - "????"






Her biking pictures in a monokini were also talk of the town a while ago.








The Diva was last seen as a judge on 'Top Model India' that aired on Colors Infinity and left men drooling with her hot avatars on every appearance.



Lisa Haydon as 'Vijayalakshmi' in Kangana Ranaut's 'Queen' (Pic: Film)

Lisa, who lives in London had married boyfriend Dino Lalvani in October 2016 and they became parents to Zack on May 17th, 2017.

Here are some more pictures of scorching Lisa and her baby Zack.. which give both fitness goals and mommy goals to us!






















What are your views about Lisa's picture with her son? Write them down in comments section below!