Loveratri Trailer launch: Salman narrates his first meeting with Arpita's then-boyfriend Aayush Sharma!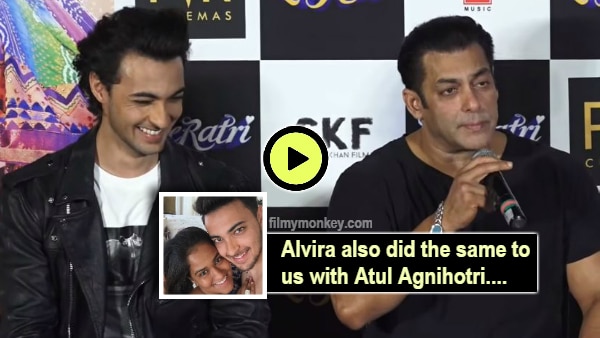 Mumbai:
 It was the occasion of 'Loveratri' trailer launch, the film that marks Aripta Khan Sharma's husband and Salman's brother-in-law Aayush Sharma's Bollywood debut along with Warina Hussain in lead. Brother and the producer of the film Salman, was speaking about how Aayush bagged the film and while narrating the story, actor went back and told the whole story of how Arpita got Aayush home to get him to meet brothers Salman, Sohail, Arbaaz and family members.
The actor said Sohail first spotted Aayush at his gym named Gold and thought of him as an actor even before Arpita introduced him to the family.

"There's a backstory. Sohail and me, we were supposed to do a film My Punjabi Nikaah. So that script we had, a ready script. Suddenly, I started doing different kind of roles. So, that role did not suit me anymore. Sohail was working out in the Gold's gym and he saw this one boy and said 'Salman Bhai, there is this one boy I saw in the gym and he is the ideal casting for My Punjabi Nikaah. So, I asked did you speak to him. He said no and I only saw him once and after that, he has not been coming to the gym. He said very fit guy, hardworking, doesn't talk to anyone, and keeps to himself, very respectful. I said good. Then again, we got an opportunity to meet Aayush at home after 6 months. All the brothers and Alvira were beckoned home by Arpita and she said this is the guy I want to get married to. So, we were like "ye suddenly ye guy kahan se aa gaya life mei?" So this is what she also did to us [points at Alvira sitting]with Atul(Agnihotri). Sohail was the last one to enter the house and was startled. I asked 'What happened?' He said, 'Remember the guy I told you about in Gold's gym? He is the same guy. I said 'Chalo, picture free karega phir toh![laughter]'"

ALSO - Salman's nephew Ahil Sharma in a joyful mood at 'Loveratri' trailer launch!

Salman Khan, who is backing brother-in-law Aayush Sharma's debut "Loveratri", says the young actor rejected almost 10 scripts before finalising "Loveratri" as his debut. "During the narration, it was interval when Aayush said he loved the film. Before this, I was kind of getting pissed with him because he has refused some 9-10 scripts. He had his apprehensions about a few things. But with 'Loveratri', he thought he could see himself in it".

Salman was also asked questions regarding his another upcoming film 'Bharat' and the controversy surrounding Priyanka Chopra first bagging the lead role and then quitting it in the "nick" of time. He said he was happy for Peecee who left his film for her Hollywood film opposite popular actor Chris Pratt titled 'Cowboy Ninja Viking' but she shouldn't have given another reason for it(Referring to her engagement news with Nick Jonas)[VIDEO: Salman's reaction on Priyanka Chopra's exit from 'Bharat' at Loveratri trailer launch].

Directed by Abhiraj Minawala, "Loveratri" is produced by Salman Khan under the banner of Salman Khan Films is slated to release on 5th October 2018.

Click below to Watch Salman talking about Aayush and Arpita:



Also WATCH MORE videos from 'Loveratri' trailer launch Here!

You may leave your comments below & keep visiting this space for all updates!