Mard Ko Dard Nahi Hota TRAILER: Bhagyashree's son Abhimanyu Dassani nails with his action in his debut movie!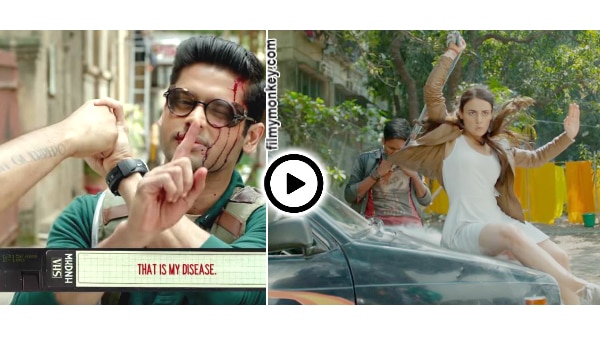 Called 'The Man Who Feels No Pain' in english, Vasan Bala's next directorial 'Mard Ko Dard Nahi Hota' stars the
'Maine Pyar Kiya' fame Bhagyashree's son Abhimanyu Dassani
and Radhika Madan (who's currently getting praised for her
'Pataakha' trailer
 alongside Sanya Malhotra) and the makers have just released the trailer of the film 'MKDNH' which is having its world premiere at the Toronto International Film Festival (TIFF) in the first week of September, 2018. Going by the title of the film, it's a story of a man 'Surya'(Abhimanyu) who suffers from a rare disease called Congenital insensitivity to pain and who then in the guidance of his father (Mahesh Manjrekar), learns martial arts to take on the chain snatchers.


The trailer opens with Abhimanyu talking to the camera explaining his 'disease' and how instead of every man's dream of becoming something big in life, he dreams of getting the city rid of the chain snatchers. While he walks talking, we get glimpses of how he's free from pain while he gets hit or knocked with stuff badly.
"sabko lagta hai apna mann ka life na real hona chahiye. Mujhe bhi aise hi lagta hai. Koi Prime Minister, koi President, koi singer, koi olympic champion, koi superstar, koi wrestler, koi-koi ko lagta hai apan Football World Cup 2022 mei bhi khelenge.. sochne mei kya jaata hai! Par mai clear hun! Mujhe duniya ke har ek chain-chor ko teen se bhala do-do se bhala ek karke..
[strikes a karate pose & a street light drops on his head causing him to bleed but with no pain! Looks up and the repair-man apologizes saying sorry sorry]..".
He then continues while sipping water with the straw that's connected to the carrier behind his back and tells the camera he needs to keep drinking since he would not know if he's getting dehydrated. And in the same way he would not come to know if his legs, hands, face, nose or any of it breaks either. Even high BP or low BP..[Gets punched in the nose by a heavy iron rod being carried by two passers by causing his nose to bleed].
Born to actress
Bhagyashree and her actor-husband Himalay Dassani
, Abhimanyu, then reveals that he has a rare condition called 'Congenital Insensitivity to Pain' which in simple words mean "mard ko dard nahi hota".
The trailer then shows his journey from childhood to adulthood. Radhika Madan also shows her action skills as she stars opposite Abhimanyu. Apart from these two and Mahesh Manjrekar, we also see Gulshan Devaiah in it.
Playing in it an unlikely 'superhero' who's born with the ability to feel no pain, Abhimanyu's film has becomes the first Indian film to be premiered in the 'Midnight Madness' category at the Toronoto International Film Festival 2018 to be held from 6th to 16th September next month.
"I''s a great honour for me and my team to have the film being premiered there. The icing on the cake is that i''s the first Indian film to be premiered in the 'Midnight Madness' category,"
 Director Vasan Bala said in a statement.



To my Ajoba. #6yearslater #TIFF18 #MidnightMadness #MKDNH @RSVPMovies https://t.co/9cPG7uXASW


— Vasan ????????L???? (@Vasan_Bala) August 17, 2018
ALSO - 
Is Bhagyashree's son Abhimanyu Dassani DATING 'Jannat' actress Sonal Chauhan?
Abhimanyu  had trained in taekwondo, mixed martial arts and wing chun for months, before beginning film's shoot.
The trailer of 'Mard Ko Dard Nahi Hota' which is produced by Ronnie Screwvala, is getting a lot of praise from the fraternity and Anurag Kashyap tweets after watching it -
"@Vasan_Bala ne bada wala Phoda hai.. what a kick ass trailer @RonnieScrewvala "Mard ko Dard nahin hota" Trailer | TIFF 2018 . Yeh trailer India mein kab release ho raha hai https://
class="tco-ellipsis">

 
via
@YouTube
".
Manoj Bajpayee wrote -
"Fantastic @vassn_Bala best wishes".
Check out the trailer of Abhimanyu Dassani and Radhika Madan's 'Mard Ko Dard Nahi Hota', below! And tell us how you find it?
Stay tuned to Filmy Monkey for all the latest updates.