Shahid Kapoor's daughter Misha has fun meeting her favorite Peppa Pig at a party, mom Mira Rajput shares pics! Duo returns home happy!
Shahid Kapoor and Mira Rajput's daughter Misha Kapoor just attended a Birthday bash in Mumbai and while returning, the mommy flashed her pretty smile while li'l one looked excited after having a gala time at the bash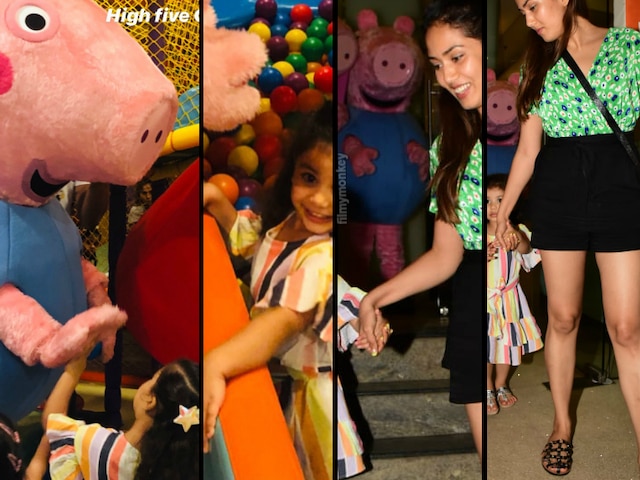 Shahid Kapoor and Mira Rajput's little doll Misha Kapoor had a great time at a birthday party held in Mumbai on Tuesday evening and mommy just shared some pictures on her Instagram giving us a glimpse of it. Mira shared three adorable pictures of Misha with her friends surrounded with balls and the live size cartoon characters. Mira's text on pictures say it was a dream come true for her cutie as we see her playing with live sized Peppa Pig cartoon character. Misha is seen flashing a big wide smile in all the pictures making our hearts melt.
Misha Kapoor with her favorite Peppa Pig at a birthday party
Even while leaving the venue, the mommy-daughter duo looked beautiful together as Mira was sporting black shorts with a green top tucked inside while the little one wore a frock with multicolored vertical stripes. As the cameras flashed, Mira holding Misha's hands helping climb down the stairs and carrying the return gift in another, flashed her million dollar smile for the cameras.
Mira Rajput leaving from a Birthday party with daughter Misha in Mumbai (Pic: Manav Manglani)


Mira Rajput leaving from a Birthday party with daughter Misha in Mumbai (Pic: Manav Manglani)


Mira Rajput leaving from a Birthday party with daughter Misha in Mumbai (Pic: Manav Manglani)

'Kabir Singh' actor Shahid Kapoor recently made an appearance on Neha Dhupia's chat show 'BFFs With Vogue' Season 3 where he opened up on various topics including parenting and spoke at length talking about family life and the trolling the couple faces.

He revealed that his wife Mira otherwise handles trolling like a Boss but gets really affected when their kids daughter Misha and son Zain get trolled on social media. "How can somebody say this? Are they not human beings? Don't they understand they're talking about children. So, now it's only the kids. So, I think with me and her, she is over that part. But with kids she can get a little like, what the hell.", he said.

Remember how Misha was trolled when mommy Mira had posted her pictures after getting her hair colored a few months ago? But Mira did hit back at trolls then too.

Mira Rajput reacts on trolling over daughter Misha Kapoor's colored hair -"Doesn't make sense to get serious about everything"

Both Mira and Shahid regularly post their kids' pictures on Instagram and it is unfortunate that the trolls cannot spare even the little babies. Mira had recently shared some pictures of Misha and Zain fighting over a flower and we couldn't stop drooling at the cuteness of these two siblings.

Awww! Li'l brother Zain Kapoor pinches Misha & mom Mira Rajput captures their fight over a flower in pics!

Shahid, who's next 'Kabir Singh' which is a hindi remake of hit Telugu film 'Arjun Reddy', is releasing this week, had even opened up on who do his children look more like between him and wife Mira.

ALSO - Shahid Kapoor reveals who is better at sexting between him and wife Mira on 'BFFs with Vogue 3'!

And coming back to Misha's 'rendezvous' with Peppa Pig.. here are some more adorable pictures of the li'l one from the B'day bash this evening:


Misha Kapoor with her favorite Peppa Pig at a birthday party


Misha Kapoor with her favorite Peppa Pig at a birthday party


Mira Rajput leaving from a Birthday party with daughter Misha in Mumbai (Pic: Manav Manglani)


Mira Rajput leaving from a Birthday party with daughter Misha in Mumbai (Pic: Manav Manglani)


Mira Rajput leaving from a Birthday party with daughter Misha in Mumbai (Pic: Manav Manglani)