"Be true to your job, to serve the New India"- Dharmendra shares his film scene as a message to the government!
During the Cabinet Announcement, legendary Bollywood actor Dharmendra shared a scene from his 1969 film 'Satyakam' co-starring late Sanjeev Kumar to send a strong message to the government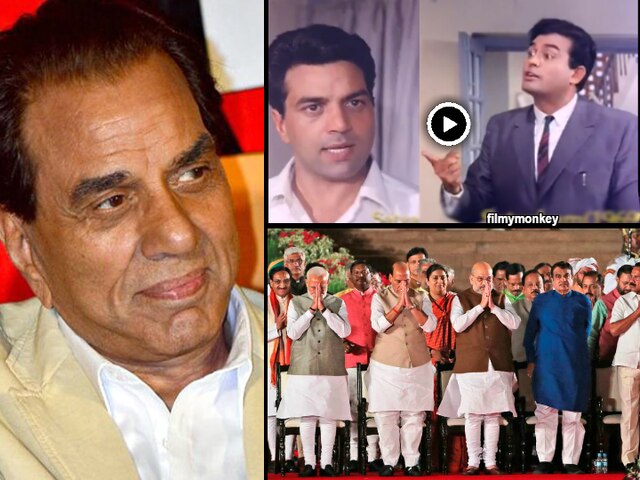 Allocations of portfolios to newly sworn in members of the Council of Ministers were announced just a while ago and Amit Shah is now the new Home Minister, Rajnath Singh gets Defence Ministry, Nirmala Sitharaman is Finance Minister, Jaishankar gets MEA.. [
View Complete LIST here!
]. And that we have the Modi Cabinet 2.0, here's what the legendary Bollywood actor Dharmendra expects from them. Dharmendra, who's son Sunny Deol and wife Hema Malini have also won from their respective seats in the Lok Sabha Elections 2019, shared a video snippet from his 1969 film 'Satyakam' on Twitter and writes along with it-
"Be true to your job, to serve the New India[Flag of India emoji]."
The scene features Dharmendra as 'Satyapriya 'Sath' Acharya' while late Sanjeev Kumar is in the role of his Boss at his office named 'Narendra 'Naren' Sharma'.
In this dialogue sequence from the
Hrishikesh Mukherjee directed film
, Boss Narendra comes to Sath's desk and asks him to leave with him saying-
Naren(Sanjeev Kumar): 
Sath! Chal, chai taiyyar hai.. oopar zara datt ke gapp ladaayenge


Sath(Dharmendra)- "Sorry! mujhe kaam hai!"

Naren: Mai jaanta hun kya kaam hai! Isey thoda peechhe daalne se mahabharat ashuddh nahi ho jayegi! Chal!!![begins to move out]

Sath: Mujhe maaf karna hoga!

Naren: Dekh, tooney abhi abhi kaha tha na mai tera Boss hun, toh mai tujhe order karta hun [insists aggressively snapping at him]

Sath: Ghalat order maanne ke liye mai taiyyar nahi, mere bhi kuchh aadarsh hain..

Naren: [interrupting Sath] Dekh Sath, too much of anything is bad! Kisi bhi cheez ki atee buri hoti hai. Mai jaanta hun ki honesy is the best policy lekin..

Sath: [shouts interrupting Naren] Aap ghalat jaante hain Sir! Policy is hisaab se honesty nahin dishonesty is the best policy! Imaandari koi policy nahi, imaandari dharm hai imaan hai [Naren looks shockingly and angrily at Sath]

Naren: Toh tum nahi chaloge?

Sath: Jab tak daftar band nahi ho jaata, mai nahi jaaunga!

Watch the movie clip below: 




Be true to your job, to serve the New India ???????? . pic.twitter.com/XiLGxwWxoW


— Dharmendra Deol (@aapkadharam) May 31, 2019



He had shared the same video in the morning captioning it- "Something very important, every responsible person should learn.[folded hands emoji]."

And while the allocations of portfolios were being announced, Dharmendra posted it again with a new message saying "Be true to your job, to serve the New India".

The strong and powerful message Dharmendra's character gives in this scene is directed towards PM Narendra Modi's new government. Last seen in 'Yamla Pagla Deewana: Phir Se', Dharmendra with sharing of this tweet, asks the new ministers to be dutiful, honest and true to their country #NewIndia

The message was sure to win the fans and so it does. They are loving it.

Here are some comments by the fans on Dharam Paaji's tweet:


Fan reaction on Dharmendra's tweet
Fans' reactions on Dharmendra's tweet

Actress Koena Mitra also extended her wishes for Amit Shah who now has a new role to play which is of the Home Minister.

She wrote on Twitter: "Heartiest wishes to Shri @AmitShah ji for his new role as the Home Minister of India. He in charge of Home means very bad days for criminals within and outside border. Congratulations India. #AmitShah #HomeMinister #ModiCabinet #ModiSarkar2".




Heartiest wishes to Shri @AmitShah ji for his new role as the Home Minister of India. He in charge of Home means very bad days for criminals within and outside border.
Congratulations India. #AmitShah#HomeMinister#ModiCabinet #ModiSarkar2


— Koena Mitra (@koenamitra) May 31, 2019