Oscars 2018: Spotlight on burning issues at 90th Academy Awards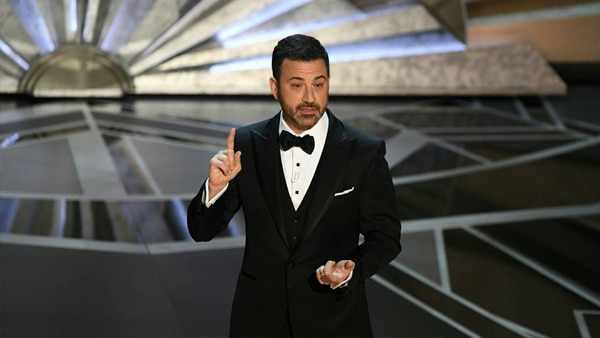 By:

ANI
Updated:
05 Mar 2018 02:14 PM
New Delhi [India]: What's an award show sans some political moments? The 90th Oscars saw contemporary social issues taking the centre stage.
From celebrities wearing 'Time's Up' buttons, Twitter buying a 'MeToo'-inspired ad, Wal Mart and Nike channelling diversity and empowerment to activism getting an Oscar salute via the 'Stand Up for Something' song, the event witnessed it all.
Fashion was used as a political statement. Many attendees sported the signature 'Time's up' black and white pin. The #WearOrange pins and ribbons from gun control group Everytown also made their way to Hollywood's biggest night.



Ashley Judd's custom-made diamond ring pays tribute to #TimesUp, and the 5 female directors to be nominated in Oscar history (Watch) #Oscars pic.twitter.com/J6c5yEkGGi


— Variety (@Variety) March 5, 2018

Ashley Judd and Mira Sorvino discuss the #TimesUp movement on the #Oscars Red Carpet: "This movement isn't stopping, we're going forward until we have an equitable and safe world for women." https://t.co/IfuElO70hE pic.twitter.com/ghKVyBUFxr

— Good Morning America (@GMA) March 5, 2018

Political activists were also seen attending the event. Planned Parenthood President Cecile Richards attended the Oscars with Patrisse Cullors-Brignac, one of the co-founders of Black Lives Matter, and Bryan Stevenson, Equal Justice Initiative director.
Moreover, there were a few political zingers.
Jimmy Kimmel, who returned to the helm as host, said in his opening monologue, "If you are a nominee tonight who isn't making history, shame on you," a nod to the anticipation of a more diverse set of nominees and the show's hopes of social change ahead.
.@GalGadot @AnselElgort @MargotRobbie @HamillHimself @RealGDT Emily Blunt @Lupita_Nyongo @ArmieHammer @Lin_Manuel @IamGuillermo & I crashed a screening of #WrinkleInTime to thank moviegoers for moviegoing #Oscars @ChineseTheatres pic.twitter.com/KRUdM5Y0O4

— Jimmy Kimmel (@jimmykimmel) March 5, 2018
He urged winners to say whatever they wanted, whether it be on sexual harassment or gun violence, but he also jokingly offered a Jet Ski to anyone who gave the shortest speech.
Oscar envelopes changed after last year's snafu
The first United States President Donald Trump joke came about 10 minutes into Kimmel's monologue. "None other than President Trump called 'Get Out' the best 3/4 of a movie so far this year," Kimmel said when addressing the mastermind behind the film, Jordan Peele.
He also made a joke about Mike Pence while talking about best actor nominee Timothee Chalamet, nominated for the film 'Call Me By Your Name,' a gay love story.
"We don't make films like 'Call Me By Your Name for money. We make them to upset Mike Pence," Kimmel said.

Jimmy Kimmel​ kicked off the #Oscars with a biting opening monologue. pic.twitter.com/KCvc0NVPiW

— InStyle (@InStyle) March 5, 2018

Kimmel didn't leave Hope Hicks, the former White House communications director and one of Trump's longest-serving and closest aides who resigned last week, behind.
While introducing director Greta Gerwig and actress Laura Dern before they presented the best documentary feature category, he said, "If the last two years have taught us anything, it's that reality can be ... depressing. But tonight's nominated documentaries show us that where there is darkness, there is also hope. Except at the White House. Hope quit on Wednesday."
In addition, the Russian Olympics doping documentary "Icarus" took home best documentary feature on Sunday.
90th Academy Awards 2018: Gary Oldman, Frances McDormand win best actors at the Oscars!
During his acceptance speech, filmmaker Bryan Fogel got a little political himself.
"We dedicate this award to Dr. Grigory Rodchenkov, our fearless whistleblower, who now lives in great danger," he said. "We hope 'Icarus' is a wake-up call -- yes, about Russia, but more importantly, about telling the truth."
Also, Oscar nominee Kumail Nanjiani, co-writer and star of 'The Big Sick,' and Oscar winner Lupita Nyong'o addressed one of the biggest political debates of the year: immigration.
Best actress award winner Frances McDorwand just gave one of the greatest Best Actress Oscars speeches of all time!



Did you stand up too?? 😭. Frances McDormand just gave one of the greatest Best Actress #Oscars speeches of all time! #timesup #inclusionrider pic.twitter.com/fvCUJnxOfy


— FLARE (@FLAREfashion) March 5, 2018