Oscars 2019 WIN: 'Period. End of Sentence' lead girl Sneha's family celebrates; Bollywood congratulates Guneet Monga!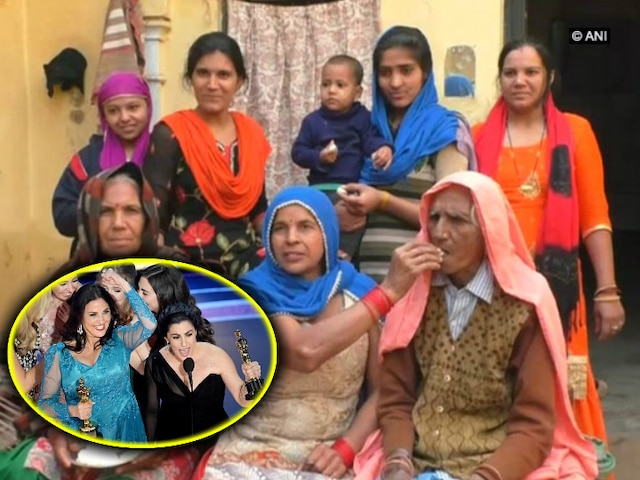 By:

ANI
Updated:
25 Feb 2019 03:05 PM
Hapur (Uttar Pradesh):
It's been a few hours since 'Period. End of Sentence,' an India-based documentary created history after winning the best documentary short subject at the 2019 Oscars. The 26-minute short documentary follows a group of women in Hapur, India and their experience with the installation of a pad machine in their village.
While producer of the film Guneet Monga has already expressed her happiness over the big win on her Twitter handle. The family of the girl on whom the movie is based, also expressed their joy over the win.
Sneha's brother Kapil while speaking to ANI, said, "It is based on our sister's life, but not just my sister, everyone related to the film should get credit for the film's win. The director and actors of the film, all deserve the award. It's a very happy moment for all of us."
Sneha's friend and co-worker Sushwa also expressed her happiness and said, "I am feeling very happy and proud. We come from a small village and we didn't know about this earlier. We had worked very hard on this and so we are feeling very proud. We are very happy that the movie based on our company and our work has got an award."





View this post on Instagram
Sneha also made her grandmother proud, who was all smiles, speaking about the film. She said, "I am feeling very happy and proud."
Bollywood too erupted with happiness because it is not every day that India brings in home an Oscar. From Priyanka Chopra, Vicky Kaushal, Neha Dhupia, Dia Mirza, Mini Mathur, among many others took to their Twitter to congratulate the film's team on the big win.
Oscars 2019 WIN: Periods don't stop us from achieving anything: 'Period. End of Sentence' producer Guneet Monga!
Priyanka wrote, "One of the most special moments of the evening...a film based on the taboos around menstruation wins BEST DOCUMENTARY SHORT! Congratulations to the entire #PeriodEndOfSentence team, and my fearless friend @GuneetMonga!! #Oscars2019."
Vicky too took to his Twitter and wrote, "Congratulations Guneet!!! #Oscar #PeriodEndOfSentence."
"What a great time for women in film... congratulations @guneetm and @sikhyaent on your #Oscar win for #Periodendofsentence ... what a huge moment. We are all so proud of you. Time to tune into @NetflixIndia n watch this beautiful documentary all over again," Neha tweeted.
"Yayyy!!! @guneetm this is so awesome!!! Congratulations #India #Oscars #PeriodEndofSentence," Dia wrote expressing her joy.
Oscars 2019: Here's the FULL LIST of the WINNERS of the 91st Academy Awards!
The film is directed by Rayka Zehtabchi. The film was competing with other films including 'Black Sheep', 'End Game', 'Lifeboat' and 'A Night at the Garden'. The documentary that tackles the stigma around menstruation in rural India, is currently available on Netflix.
The 2019 Oscars took place at the Dolby Theatre at Hollywood & Highland Centre in Hollywood.
You may watch the trailer of 'Period. End Of Sentence' by clicking
Here!
(ANI)