Oscars viewership hits record low, US President Donald Trump takes a dig!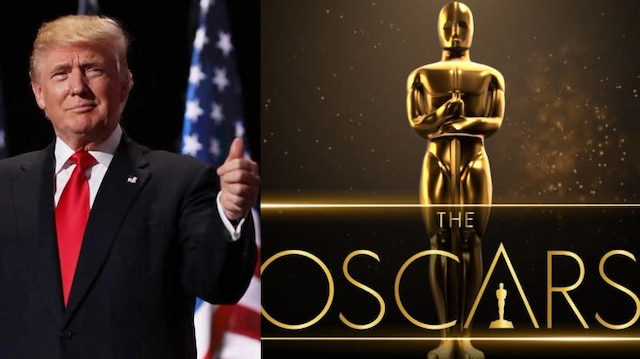 US President Donald Trump did not leave a chance to take a swipe at the 90th Academy Awards when the ABC telecast of the show for American audiences attracted the fewest viewers from the time such records have been maintained.
According to data released by Nielsen, a record low 26.5 million people watched Sunday night's telecast, a nearly 20 percent drop from last year, nytimes.com reported.
Academy Awards 2018: Frances McDormand's Oscar trophy STOLEN at the after party, thief arrested!
Trump took a jibe at this by tweeting: "Lowest rated Oscars in HISTORY. Problem is, we don't have Stars anymore - except your President (just kidding, of course)!"



Lowest rated Oscars in HISTORY. Problem is, we don't have Stars anymore - except your President (just kidding, of course)!


— Donald J. Trump (@realDonaldTrump) March 6, 2018
The Oscars ceremony saw host Jimmy Kimmel cracking a joke about Trump as he addressed "Get Out" director Jordan Peele.
"None other than President Trump called 'Get Out' the best three-fourth of a movie he had seen this year," Kimmel quipped at the gala, where several celebrities took a stand for immigrants and 'Dreamers' amid the ongoing immigration debate over a programme that protects hundreds of thousands of young immigrants from deportation.
90th Academy Awards 2018: IN PICS- Hollywood DIVAS DAZZLE on the RED CARPET of Oscars 2018!
As for the viewership of the Oscars, it represents a startling drop as recently as four years ago, the Academy Awards had an audience of 43.7 million viewers.
The previous record low was in 2008 when 32 million viewers watched a hastily organised ceremony that proceeded just days after the Writers Guild of America's strike had ended.
Moving the ceremony up to 8 p.m. on Sunday on ABC -- a half-hour earlier than its 8.30 p.m. slot -- also didn't help.
"The Shape of Water" emerged as the big winner with four honours at the event, where stars mostly stayed away from the industry's concerns over Trump's administration -- a contrast from a politics-heavy Golden Globes and Emmys. However, the #MeToo and Time's Up movements were emphasised.
The show was aired in India on Star Movies and Star Movies HD, but there was no clarity on behalf of the channel about ratings that the gala generated in the country.
According to nytimes.com, ratings for live award shows have dropped in the last six months. The Grammys saw a quarter of its audience plunge in January, and the Screen Actors Guild Awards similarly saw a 30 per cent drop.