PICS: Sidharth Malhotra spotted at Dehradun airport for Rs. 200 Cr wedding in Auli
Siddharth Malhotra, who will be next seen in 'Jabariya Jodi' opposite Parineeti Chopra, will perform at Gupta's Rs 200 Cr wedding function in Auli.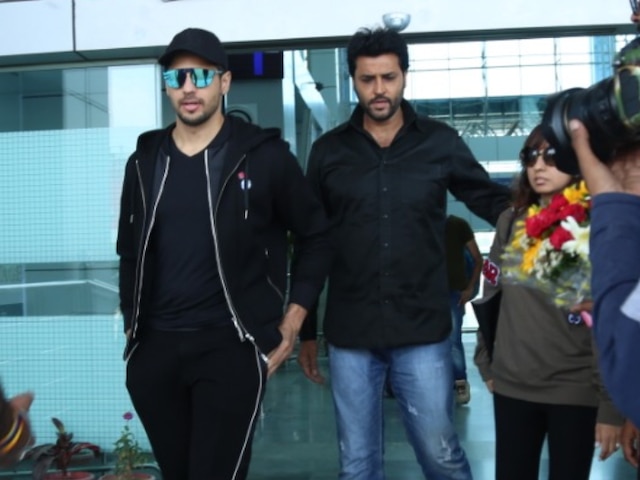 New Delhi:
The 200 Cr worth grand wedding of the country at Uttarkhand's beautiful hill station Auli that has already grabbed all the headlines of the country is witnessing back to back glittering performances of Bollywood film stars and music sensations. However, the latest addition to this glamorous list of stars is country's new-age hero Sidharth Malhotra.
The King-sized wedding programme of NRI Gupta brothers has literally taken the stars of the country to 10,000 feet height from the sea level. Bollywood queen Katrina Kaif, rapper Badshah, music personalities Kailash Kher, Javed Ali, Abhijeet Sawant have set the stage on fire with their power-packed performances at the function.
Katrina's appealing dance performance with Sheila Ki Jawani, Badshah's Ladki Beautiful Kar gayi Chul' have already set the fire on the stage.


PICS & VIDEO: Katrina Kaif, Badshah perform at Gupta's high-profile wedding in Auli

Today, the emerging star Siddharth Malhotra, who has been snapped with a classy all-black attire at Dehradun Airport, has joined the team in the morning. The VIPs are reaching to Dehradun Airport from all over the country and then are being escorted to Auli by chopper.

Check out the pictures of the 'Student of the Year' actor from the Dehradun airport!


(Source- Instagram)


(Source- Instagram)


(Source- Instagram)

The long-running occasion has also witnessed sizzling beauties including television presenters and models like Roshni Chopra, Urvasi Rautela, Sana Khan, Surbh Jyoti, Naura Fatehi and others.

The face behind this exclusively-managed one-of-a-kind wedding is Katalyst Entertainment Pvt. Ltd., countries the most reliable and biggest entertainment companies for ages. In a recent talk, the Management of Katalyst has expressed their immense gratitude towards the VIPs who have managed their time to go all the way long to this obscure place amid their super-busy schedule.

As Nitin Arora, the M.D. of Katalyst Entertainment has said, "It's just never been done before, on this scale in India on such a high altitude. Thankfully, we've managed to pull it off, in a wonderful way…"

Katalyst Entertainment Pvt. Ltd. is trusted as the country's top entertainment consulting company and management firm for a reason and through organizing this mega event they have shown why they are tagged so. This mammoth initiative by Katalyst is surely going to be a benchmark in the history of the Indian entertainment landscape and will be remembered for many years for sure.

Talking about Sidharth Malhotra, the actor has two films lined up for release in 2019- 'Jabariya Jodi' and Marjaavaan'.